MSME COMPETITIVE (LEAN) SCHEME
Copyright infringement not intended
Context: The Union Minister for MSME (Ministry of Micro, Small and Medium Enterprises) launched the MSME Competitive (LEAN) Scheme.
Details
According to the Minister, LEAN aims to give India's MSMEs a road map to global competitiveness and has the potential to grow into a national movement.

He mentioned that LEAN would work to transform manufacturing into top producers in addition to attempting to increase quality, productivity, and performance.
MSME Competitive (LEAN) Scheme
This Initiative is an extensive effort to raise MSMEs' understanding of LEAN Manufacturing techniques, motivate and reward them for achieving LEAN levels, and inspire them to become MSME Champions.

Objective:

The primary objective of the Lean Manufacturing Competitiveness Scheme (LMCS) is to increase manufacturing competitiveness in the MSME Sector. To find and get rid of waste and streamline a system, lean manufacturing uses lean techniques.

As part of the programme, MSMEs will adopt LEAN manufacturing tools such as 5S, Kaizen, KANBAN, Visual Workplace, Poka Yoka, etc. under the skilful direction of trained and competent LEAN Consultants to achieve LEAN levels such as Basic, Intermediate, and Advanced.

By adopting a LEAN approach, MSMEs can significantly lower waste, boost productivity, enhance quality, work safely, grow their markets, and eventually become competitive and profitable.

Under the scheme, Government would cover 90% of implementation costs for coaching and consulting fees to support MSME For MSMEs located in the Northeast, owned by Women/SC/ST, and a part of SFURTI clusters, an additional 5% contribution will be made.

A special feature is available to help Industry Organizations to urge their supply chain vendors to take part in this scheme.

A Special Purpose Vehicle (SPV) will be formed in each cluster

. It is expected that once MSMEs are introduced to the benefits and savings that accrue from LM techniques, they would themselves continue the Scheme from the second year onwards at their own expense.
Lean Manufacturing
The production method known as LEAN, sometimes referred to as lean manufacturing or lean production, views resource use for any purpose other than the creation of value for the end user as wasteful and therefore to be avoided.

Lean manufacturing refers to a set of principles that lean thinkers utilise to reduce waste through kaizen and increase production, quality, and lead time

. Lean Manufacturing principles include;

Value Identification:

Determine what value means from the viewpoint of the client. Understanding the demands and price range of the customer is a crucial part of this.

Create a value stream map:

The series of steps needed to produce a good or service should be mapped out as a value stream. This aids in locating inefficient and wasteful regions.

Generate Flow:

Ensure that work moves through the value stream in a seamless, uninterrupted manner. To do this, the process's bottlenecks and interruptions must be removed.

Adopt a pull system:

A pull system generates goods only as needed, in response to demand from customers. Inventory and waste are reduced as a result.

Aim for Perfection:

By locating and eliminating waste, streamlining procedures, and ensuring quality, aim for perfection constantly.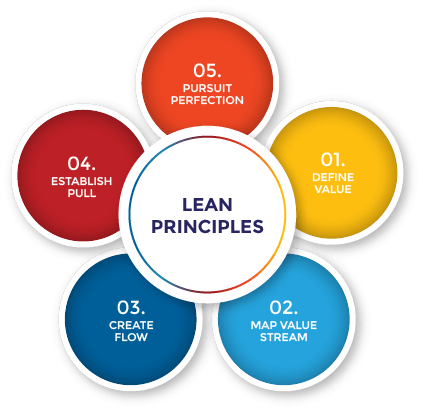 PRACTICE QUESTION
Q. Competitive (LEAN) Scheme is frequently mentioned in the news, the scheme is related to;
(A) Agriculture
(B) Telecommunication
(C) Iron and Steel Industry
(D) MSMEs
Answer: D
Must Read: https://www.iasgyan.in/daily-current-affairs/msme-sector-14