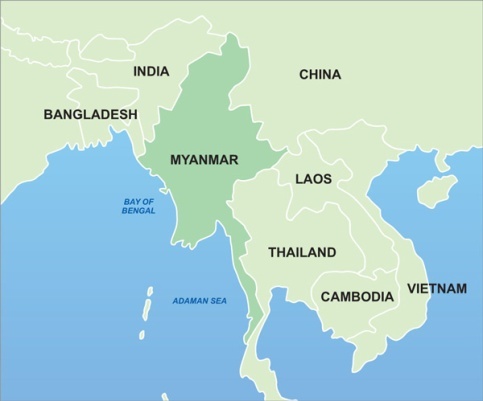 Disclaimer: Copyright infringement not intended.
Context
The Foreign Minister of Myanmar is unlikely to be part of the 24th ASEAN-India Ministerial, an official source indicated.
Geography of Myanmar
Myanmar (also known as Burma) is the northwesternmost country of mainland Southeast Asia located on the Indochinese peninsula.

With an area of 261,228 sq mi (676,578 sq km), it is the second largest country in Southeast Asia and the largest on mainland Southeast Asia.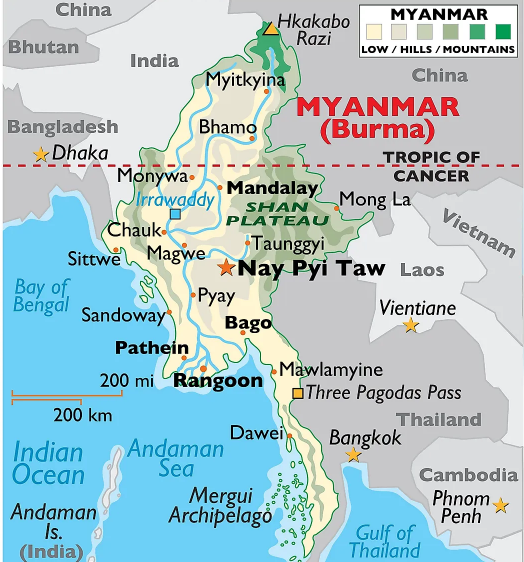 Myanmar lies along the Indian and Eurasian Plates, to the southeast of the Tibetan Plateau.

The country is nestled between several mountain ranges with the Arakan Mountains on the west and the Shan Plateau dominating the east. It includes more than 16 islands and the Mergui Archipelago.
Border countries:
Bangladesh: 271 kilometres (168 mi), India:1,468 kilometres (912 mi), China: 2,129 kilometres (1,323 mi), Laos: 238 kilometres (148 mi), Thailand: 2,416 kilometres (1,501 mi).
Climate:
Tropical monsoon in the lowlands below 1,000 m (3,281 ft); cloudy, rainy, hot, humid summers (southwest monsoon, June to September); less cloudy, scant rainfall, mild temperatures, lower humidity during winter (northeast monsoon, December to April).
Rivers:
The Irrawaddy, the main river of Burma, flows from north to south through the Central Burma Basin and ends in a wide delta. The Mekong river runs from the Tibetan Plateau through China's Yunnan and northeastern Burma into Laos.

In the east the Salween and the Sittaung River run along the western side of the Shan Hills and the northern end of the Dawna Range. The Salween begins in China, where it is called the Nu River.

In the narrow southeastern part of Burma, the Ye, Heinze, Dawei (Tavoy), Great Tenasserim (Tanintharyi) and the Lenya rivers are relatively short and flow into the Andaman Sea. Further south the Kraburi River forms the southern border between Thailand and Burma.
https://epaper.thehindu.com/Home/ShareArticle?OrgId=GCQ9U7L6P.1&imageview=0