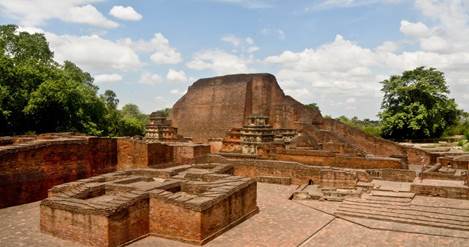 Copyright infringement is not intended
Context: Union Minister for Power and New & Renewable Energy joined the 8th International Day of Yoga (IDY) 2022 celebrations with the people of Bihar at the Nalanda Mahavihara, Nalanda in Bihar
About:
The ruins of ancient Nalanda Mahavihara (also known as old Nalanda University) of Bihar has been included in the List of UNESCO's World Heritage Site.

Nalanda Mahavihara ruins comprise the archaeological remains of monastic-cum-scholastic from the 5th century BC to the 13th century AD.

It located near Patna, state capital of Bihar and is 26th cultural site of India to get prestigious world heritage status.

Nalanda Mahavihara was founded by Kumargupta I of the Gupta dynasty in 5th century CE. It was the earliest planned university in the Indian subcontinent.

It was patronized by various rulers including King Harshavardhana of Kannauj (7th century CE) and the Pala rulers (8th to 12th century CE) as well as various scholars.

Presently, it is preserved in number of remains of stupas (temple-like structure), shrines and viharas (residential-cum-scholastic structure) and important art works in stucco, stone and metal.
https://www.pib.gov.in/PressReleasePage.aspx?PRID=1835941