ONE NATION ONE RATION CARD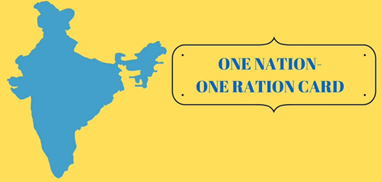 Disclaimer: Copyright infringement not intended.
Context
Assam has become the 36th State/UT to implement One Nation One Ration Card (ONORC). With this, the ONORC plan is successfully implemented in all the 36 states/UTs, making food security portable throughout the country.
What is one nation one ration card?
The Union Government launched the 'One Nation, One Ration Card' scheme on a pilot basis in four states in 2019.

This scheme aims to ensure all beneficiaries, especially migrants get ration (wheat, rice and other food grains) across the nation from any Public Distribution System (PDS) shop of their own choice.

Under the erstwhile system, a ration cardholder could buy food grains only from the PDS in the locality where he or she lives. This will change once the 'One Nation, One Ration Card' system becomes operational nationally.

It was also launched with the purpose that no poor person should be deprived of getting subsidised food grains under the food security scheme when they shift from one place to another. It aims to reduce instances of corruption by middlemen and fraudulence in ration cards to avail benefits from different states.
Broad Objective
The objective of this beneficiary centric high-impact program is toempower all NFSA beneficiaries to become AtmaNirbhar for their food security anywhere in the country, through portability of their existing ration cards enabling them to seamlessly lift their entitled subsidized foodgrains (in part or full) from any Fair Price Shop of their choice.

This also enables their family members to lift balance/required amount of foodgrains on the same ration card at their native/ any place from the FPS of their choice.
Other Benefits
Some of the other benefits of the ONORC are:
Under the ONORC, all the beneficiaries from one state can get their share of rations in other states where the ration card was originally issued. Any recipient can use their ration cards at any PDS shop across the country. ONORC is aimed at providing universal access to PDS food grains for migrant workers.

Apart from this, ONORC will also give the beneficiaries the opportunity to choose their own dealer. With many cases of misallocation, the beneficiary can switch to another FPS shop instantly, if there is any case of foul play.

This scheme will be beneficial for women and other groups, since social identity and other contextual factors will provide them with a strong backdrop in accessing PDS.

The ONORC will also help achieve the target set under SDG 2: Ending hunger by 2030. It also aims to address the poor state of hunger in India, where India has been ranked 102 out of 117 countries in the Global Hunger Index.
Who is eligible for One Nation One Ration Card?
Any citizen, who is declared under Below Poverty Line (BPL) category will be eligible to get the benefit of this scheme across the country.

The beneficiaries will be identified on the basis of their Aadhar based identification through the electronic point of sale (PoS) device. All the PDS shops will have the facility of electronic PoS devices.

One Nation One Ration Card' scheme is also aimed at reducing the incidents of hunger deaths in the country, to further improve rankings in the Global Hunger Index.
How will the eligible beneficiary benefit from it?
Ration cardholders can buy up to 5 kg of rice at Rs 3/kg, wheat at Rs 2/kg, and coarse grains at Rs 1/kg per month, as mandated under the National Food Security Act passed in 2013.

Under the previous process, migrants had to apply for new ration cards at their new locations if they want to buy subsidised food grain, as the cards are linked to their residing places.

However, the new system helps the large migratory population to avail the benefits anywhere across the country.
How does ONORC work?
ONORC is based on technology that involves details of beneficiaries' ration card, Aadhaar number, and electronic Points of Sale (ePoS). The system identifies a beneficiary through biometric authentication on ePoS devices at fair price shops. The system runs with the support of two portals —Integrated Management of Public Distribution System (IM-PDS) (impds.nic.in) and Annavitran (annavitran.nic.in), which host all the relevant data.

When a ration card holder goes to a fair price shop, he or she identifies himself or herself through biometric authentication on ePoS, which is matched real time with details on the Annavitaran portal. Once the ration card details are verified, the dealer hands out the beneficiary's entitlements. While the Annavitaran portal maintains a record of intra-state transactions — inter-district and intra-district — the IM-PDS portal records the inter-state transactions.
Status
As of now, the ONORC plan has been successfully implemented in all the 36 states/UTs, making food security portable throughout the country.

During the last two years of COVID-19 pandemic, ONORC plan has significantly contributed in ensuring subsidized foodgrains to NFSA (National Food Security Act) beneficiaries, especially migrant beneficiaries.

Since its inception in August 2019, about 71 Crore portable transactions have taken place under ONORC, delivering foodgrains equivalent to about Rs. 40,000 Crore in food subsidy through portability.

Presently a monthly average of about 3 Crore portable transactions are being recorded, delivering the subsidised NFSA and free PMGKAY foodgrains with anywhere flexibility to the beneficiaries.

Also, 'MERA RATION' mobile application is providing a host of useful real time information to the beneficiaries and is available in 13 languages.
https://www.pib.gov.in/PressReleasePage.aspx?PRID=1835960