Open Network for Digital Commerce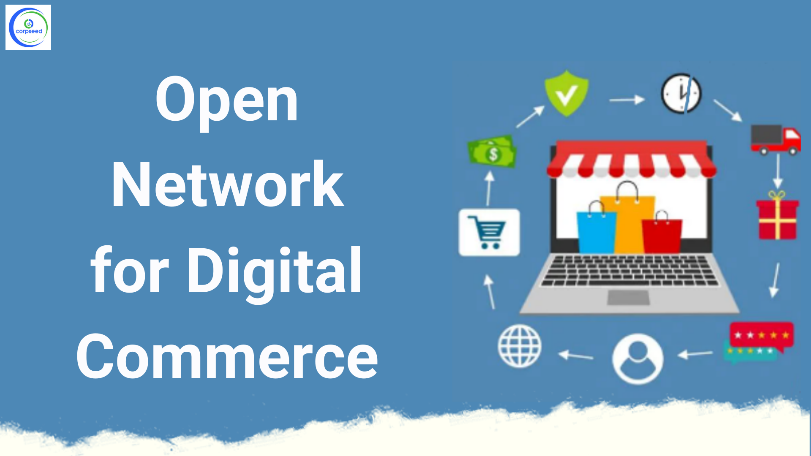 Disclaimer: Copyright infringement not intended.
Context
Microsoft has become the first big tech company to join the government-backed Open Network for Digital Commerce.
About ONDC
Open Network for Digital Commerce, abbreviated ONDC, is a private non-profit Section 8 company established by the Department for Promotion of Industry and Internal Trade (DPIIT) under the Ministry of Commerce and Industry of Government of India to develop open e-commerce.

It was incorporated in 2021 with initial investment from Quality Council of India and Protean eGov Technologies Limited(formerly NSDL e-Governance Infrastructure Limited).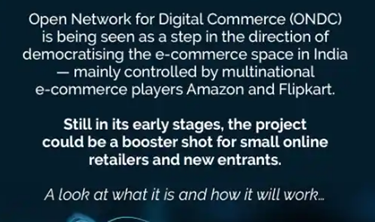 Often referred to as the UPI of e-commerce, ONDC is a freely accessible government-backed platform that aims to democratize e-commerce by moving it from a platform-centric model to an open network for buying and selling goods and services.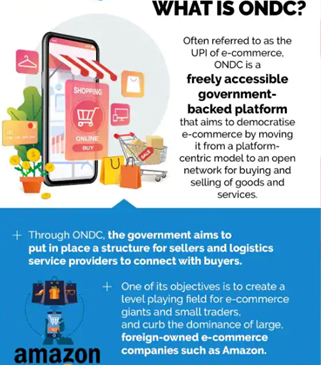 Aim
The ONDC (Open Network for Digital Commerce), is an initiative aiming at promoting open networks for all aspects of exchange of goods and services over digital or electronic networks.
Open Network for Digital Commerce (ONDC) is being seen as a step in the direction of democratizing the e-commerce space in India, mainly controlled by multinational players Amazon and Flipkart.
What led to the creation of ONDC?
Technological self-reliance, demand for level playing field mainly from small retailers, smoothen the ease of doing business online, adoption of open digital ecosystem across key sectors and fixing the non-competitive behavior of big ecommerce firms like Amazon and Flipkart to capture the US$810 billion domestic retail market led to the creation of ONDC.

It will also help check Big Tech companies violating Consumer Protection (E-Commerce) (Amendment) Rules, 2021 due to concentration of market power by integrating them into a decentralized open-source platform.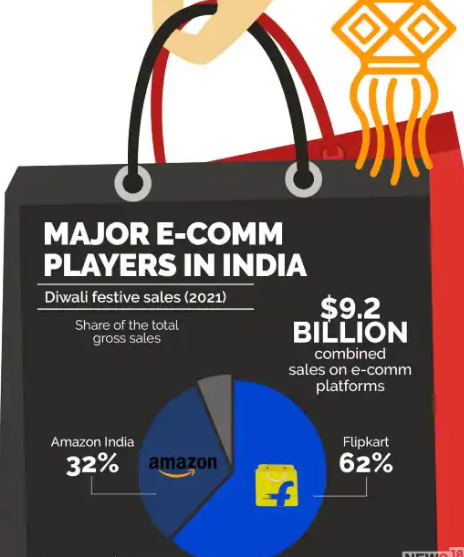 Major Objectives
The major objectives include:
Ending monopolies of the platforms

Democratisation and decentralisation

Digitisation of the value chain

Standardisation of operations

Inclusivity and access for sellers, especially small and medium enterprises as well as local businesses

Increased efficiency in logistics

More choices and independency for consumers

Ensured data privacy and confidentiality

Decreased cost of operation
It is compared to unified payments interface (UPI)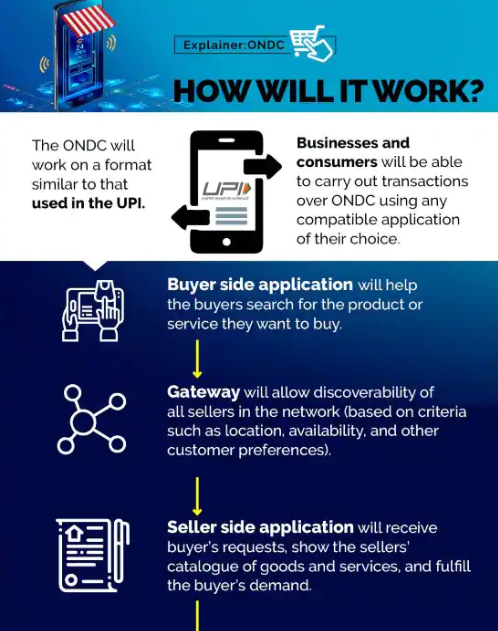 Key Features
Unlike the platform-based model, the ONDC will not be owned or controlled by a single entity or platform.

Businesses and consumers will be able to carry out transactions over ONDC using any compatible application of their choice.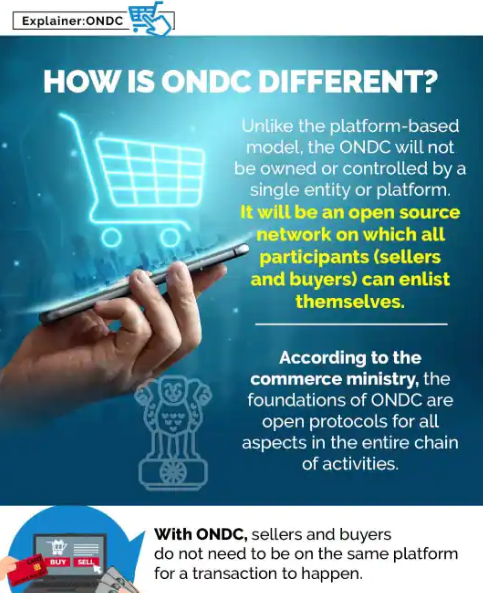 ONDC Advisory Council
About:

The primary role of the advisory council is to watch over ONDC implementation in the country.

Member and Convener:

The members were selected based on their experience in fields such as technology, fiance, commerce etc. Convener of the ONDC Advisory Council is Additional Secretary from Department for Promotion of Industry and Internal Trade under Ministry of Commerce and Industry.
Structure
The ONDC uses "free softwared methodology, open specifications and open network protocol".

The backend of the ONDC is built on Beckn Protocol, an open and interoperable protocol for decentralized digital commerce. Beckn Gateways provides anonymised aggregated data generated from the network.

On the ONDC, the consumers and merchants can transact for goods and services via open protocol instead of the central platform or application.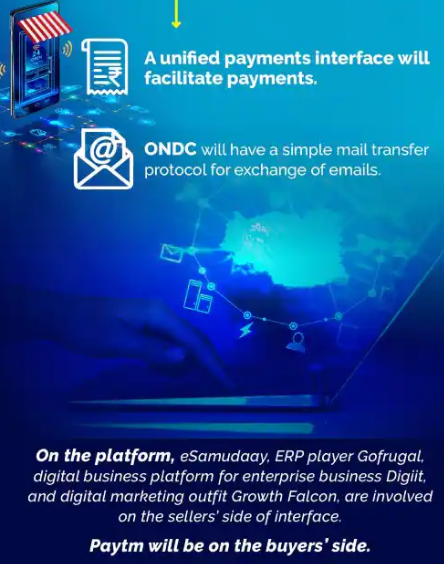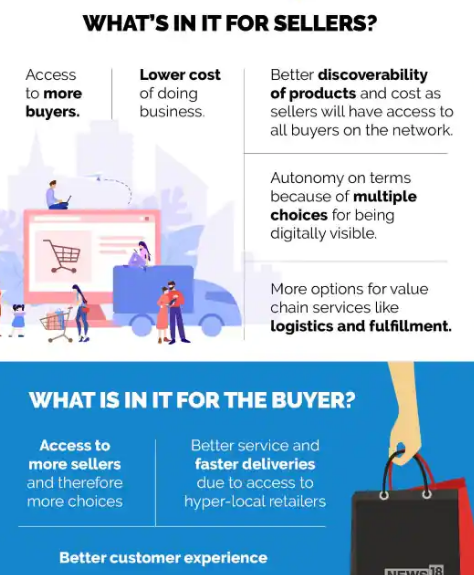 https://indianexpress.com/article/explained/explained-sci-tech/microsoft-open-network-digital-commerce-india-e-commerce-8082037/