Copyright infringement is not intended
Context: Orang National Park is expanded tiger reserve to see return of gharials in Assam.
More about news:
The government has issued notification to make Orang National Park more than thrice its existing size.
Much of the area to be added comprises the Brahmaputra river and the sandbars or islands in it.
Why there is need to revive gharials population in Assam?
Gharial, wiped out from the Brahmaputra River system in the 1950s.
About Orang National Park:
Location: located on the northern bank of the Brahmaputra river in Assam.
Flora and fauna: includes great Indian rhinoceros, pygmy hog, Asian elephant, wild water buffalo and Bengal tiger.
Pachnoi river, Belsiri river and Dhanshiri River border the park and join the Brahmaputra river.
It is the only stronghold of rhinoceros on the north bank of the Brahmaputra river.
Other Protected areas in Assam:
Orang is one of the seven national parks in Assam.
The others are Kaziranga, Manas, Nameri, Dibru-Saikhowa, Raimona and Dehing Patkai.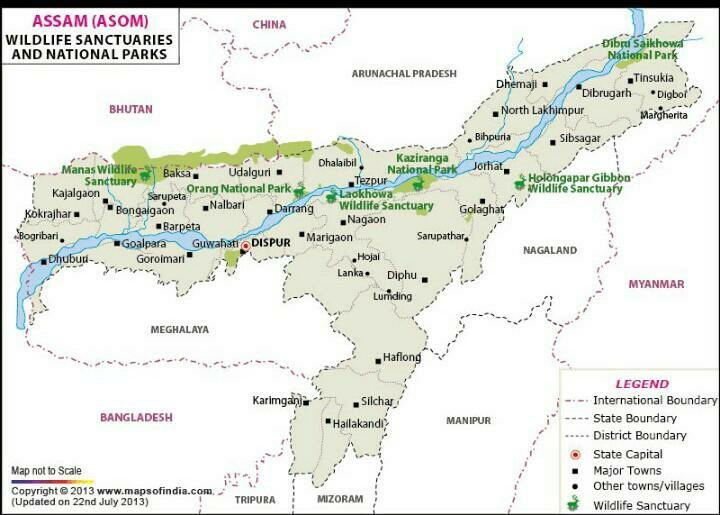 About gharials:
Ecological role: Gharials are the topmost predators in a river. They (gharial) balance the riverine food chain.
Indicator species: Gharial keeps in check their prey (i.e. fish), which keep in check their prey and so on. The presence of gharials indicates a healthy riverine ecosystem.
Naming: The male gharial has a distinctive boss at the end of the snout, which resembles an earthenware pot known in Hindias.
Conservation Status:
Critically Endangered— IUCN Red List.
It is a Schedule 1 species under Indian wildlife act, 1972
Habitat:
Girwa River, Chambal River, Ken River, Son River, Mahanadi River, Ramganga River
Threats:
Hunting for skins, trophies and indigenous medicine and their eggs collected for consumption.
Decrease of riverine habitat as dams, barrages, irrigation canals and artificial embankments were built; siltation and sand-mining changed river courses
Conservation efforts in India:
Project Crocodile for intensive captive breeding and rearing program began in 1975 (Government of India+ United Nations Development Fund + Food and Agriculture Organization)
Protected areas for gharial in India:
National Chambal Sanctuary- Madhya Pradesh
Katerniaghat Wildlife Sanctuary- Uttar Pradesh
https://www.thehindu.com/news/national/other-states/expanded-tiger-reserve-may-see-return-of-gharials-in-assam/article38190380.ece