Oriental white-backed vultures                                           
Disclaimer: Copyright infringement not intended.
Context: Eight critically endangered Oriental white-backed vultures were released into the wild for the first time in India from the Jatayu Conservation and Breeding Centre (JCBC) situated at the Bir Shikargah Wildlife Sanctuary in Shivalik ranges of the Himalayan foothills in Haryana's Pinjore.
As many as 378 vultures of three species are housed at the centre, of which 131 are Oriental white-backed vultures, 195 are Long-billed vultures, and 52 are Slender-billed vultures.
The VCBC was established in 2001 to investigate the devastating declines in India's Gyps species of vultures. It's a collaborative initiative between the BNHS and the Haryana Forest and Wildlife Department, to save the three resident Gyps species of vultures in the State from looming extinction.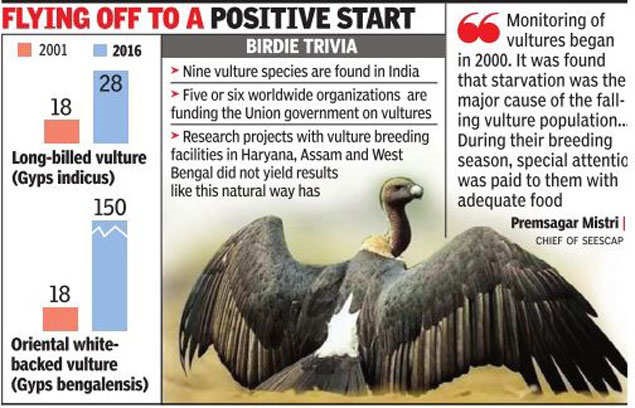 The Oriental white-backed vultures
They are resident birds and not migratory, so they largely stay within a radius of 50-100 km of the breeding centre.
Once very common, vultures are on the verge of extinction in India.
Uncontrolled veterinary usage of non-steroidal anti-inflammatory drugs (NSAID), including Aceclofenac, Ketoprofen and Nimesulide, and the illegal use of the banned drug Diclofenac, are toxic to vultures if they feed on carcasses within 72 hours of the drugs' administration to such livestock.
Populations of three species of vultures — the Oriental white-backed vulture, the Long-billed vulture and the Slender-billed vulture — have declined by over 97% since the 1990s, and that of the Oriental white-backed vultures by a drastic 99.9%.
In 2006, the veterinary use of Diclofenac was banned.
https://www.thehindu.com/todays-paper/tp-national/sheltered-for-a-year-vultures-now-at-home-with-nature/article36410209.ece