Palpimanus Godawan and Palpimanus Maldhok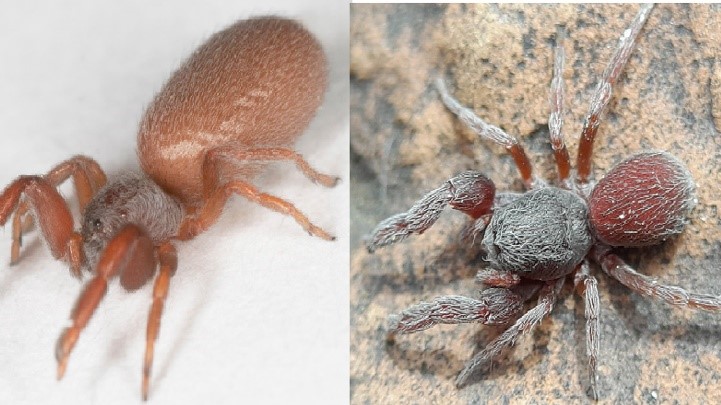 Disclaimer: Copyright infringement not intended.
Context
In a new discovery, Indian arachnologists have found two new species of spider - Palpimanus Godawan and Palpimanus Maldhok - in the conservation sites of the Rajasthan Desert National Park and Solapur district in Maharashtra.
Details
Researchers said that the habitats of the critically endangered Great Indian Bustard (GIB) played a crucial role in creating an ecosystem for the survival of the two spider species that belong to the Palpimanidae
"Godawan" and "Maldhok" species of spider aimed to draw attention to the urgent need for the preservation of these vital habitats.
If the GIB were not there, the habitat would not have been protected, and these spiders would not have survived.
The critically endangered birds are crucial in preserving the delicate balance of their ecosystems, and every species, including the recently discovered spiders.
Conservationists have urged for a united endeavor to safeguard frequently neglected species that play a crucial role in maintaining the wellbeing and adaptability of ecosystems
Desert National Park
Desert National Park is a national park situated in the Indian state of Rajasthan, near the towns of Jaisalmer and Barmer.
The Desert National Park is an excellent example of the ecosystem of the Thar Desert.
Sand dunes form around 44% of the Park.
The major landform consists of craggy rocks and compact salt lake bottoms, intermedial areas and fixed dunes.
The park was gazetted in 1980.
Despite a fragile ecosystem, there is an abundance of birdlife.
The region is a haven for migratory and resident birds of the desert.
Many eagles, harriers, falcons, buzzards, kestrel and vultures are spotted here.
Short-toed eagles, tawny eagles, spotted eagles, laggar falcons and kestrels are the most common among these.
The Chinkara or Indian Gazelle (Gazella bennettii) is a common antelope of this region.
The greatest attraction of the park is a bird called the Great Indian Bustard, a critically endangered species found only in India.
The vegetation is sparse, and patches of swan grass and aak shrub (Calotropis) can be seen.
Mammals: desert fox, Bengal fox, desert cat, wolf, hedgehog, chinkara.
Reptiles: spiny-tailed lizard, monitor lizard, saw-scaled viper, Russell's viper, common krait.
Avifauna: sandgrouse, Indian bustard, partridges, bee-eaters, larks and shrikes are year-round residents, while demoiselle crane and houbara bustard arrive in winter. Raptors include tawny and steppe eagles, long-legged and honey buzzards, and falcons.
Flora: Habitats that are found in the park include open grassland, thorny bushes, and dunes.
The Desert National Park has a collection of fossils of animals and plants which are 180 million years old.
Some fossils of dinosaurs which are 60 million years old have been found in the area.
Desert National Park also has fossils from the Jurassic Period.
READ ABOUT THE GREAT INDIAN BUSTARD:
https://www.iasgyan.in/daily-current-affairs/great-indian-bustard-23#:~:text=Great%20Indian%20Bustard%20(GIB)%3A,GIB%20population%20in%20the%20wild.
https://www.iasgyan.in/daily-current-affairs/great-indian-bustard-2
PRACTICE QUESTION
Q. Recently, the newly discovered species Palpimanus Godawan was in the news. What is it?
1.Spider
2.Butterflies
3.Eel
4.Catfish
Answer: 1
https://sputniknews.in/20230912/two-new-species-of-spider-discovered-named-after-great-indian-bustard-4210704.html