PM KISAN SAMMAN NIDHI YOJANA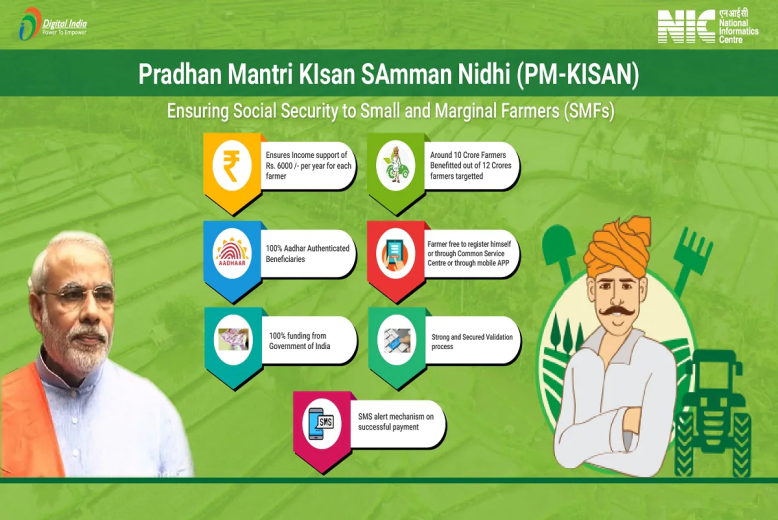 Copyright infringement not intended
Context - The Prime Minister has released the 11th instalment of Rs 21,000 crore to 10 crore farmers under the Kisan Samman Nidhi scheme (PM-KISAN).
About PM Kisan Samman Nidhi Yojana
PM Kisan Samman Nidhi Yojana or PM-KISAN is a central sector scheme launched in 2019 to provide financial support to all eligible land-holding farmers and their families.

Under PM-KISAN, the Union government provides financial support of Rs 6000/- per year in three equal instalments (Rs 2000 each instalment).

The amount is directly transferred into the bank accounts of farmers through the Direct Benefit Transfer (DBT) system.

Aadhar validation has been made compulsory.

The scheme was initially available for only small and marginal farmers having landholding less than 2 hectares

but the government removed these minimum land requirement criteria, and now the scheme covers all eligible landholding farmers.

The scheme provides a Self-registration Mechanism: Registration through the mobile app, PM KISAN portal and Common Service Centers.

A centralized call centre has been established to support the beneficiaries regarding any issues faced during the registration process or for any other grievances.

Mandatory physical verification of 5% beneficiary every year

, In order to maintain the authenticity of the scheme

.
Eligibility under PM-KISAN scheme: All small or marginal farmers are eligible to receive financial support under the Pradhan Mantri Kisan Samman Nidhi Yojana. Except for the farmer as well as any member of the family belonging to the following categories:
A person holding or retired from the constitutional posts.

Former and present Ministers/State Ministers.

Former or present members of LokSabha/ RajyaSabha/ State Legislative Assemblies/ State Legislative Councils

Former and present Mayors of Municipal Corporations

Former and present Chairpersons of District Panchayats

.

Any serving or retired officers as well as employees under the Central/ State Government Ministries /Offices/Departments.

All retired pensioners who get a monthly pension of Rs.10,000/-or belong to the above category.

Any individual who paid their income tax

in the last assessment year is not eligible under this scheme.

Professionals like Doctors, Engineers, Lawyers, Chartered Accountants, and Architects registered with Professional bodies.
Present Status
About 12 Crore farmers have been provided financial support under the PM Kisan scheme.
Concern
Difficulty in Identifying Beneficiary Farmers

Many farmers are getting multiple benefits.

No provision for landless or tenant farmers

.

Providing Inadequate financial support

Implementation issues like incomplete land records, and land disputes.

Lack of infrastructure and uncertainty in agricultural markets have adversely affected agricultural productivity and the stability of farm incomes.
Way forward
The PM-KISAN scheme provides financial support assurance to farmers.

It is a big step toward the Government's initiatives for the modernization of agriculture.

PM-KISAN is an ambitious scheme that has the potential to bring positive change to the rural economy. However, the current top-down mechanism needs to be reformed and a bottom-up strategy and well-planned implementation mechanism must be adopted to ensure the socio-economic development of rural areas.
https://newsonair.gov.in/News?title=11th-installment-of-Rs-21%2c000-crore-to-10-crore-farmers-under-Kisan-Samman-Nidhi-scheme-to-be-released-by-PM&id=441869