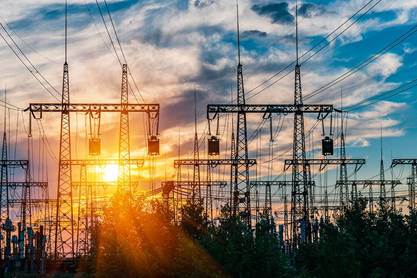 Disclaimer: Copyright infringement not intended.
Context
As the dues of power distribution companies (DISCOMS) to power generators surge to unsustainable levels, with states holding back payments to be made to DISCOMS for electricity supplies as well as against subsidies for free power schemes, the Centre is set to give distribution reforms a renewed push.
State of DISCOMS in India
Tariffs well below cost
In India, DISCOMs (Power Distribution Companies) have been accumulating losses and are under outstanding debt, as these utilities are supplying electricity at tariffs that are far below cost.

These financially-stressed DISCOMs are not able to supply adequate power at affordable rates; this hampers the quality of life and overall economic growth and development.
Huge losses
According to Niti Aayog's report, most power DISCOMs in the country incur losses every year — the total loss was estimated to be Rs 90,000 crore in the financial year 2021. Due to these accumulated losses, DISCOMs were unable to pay for generators on time.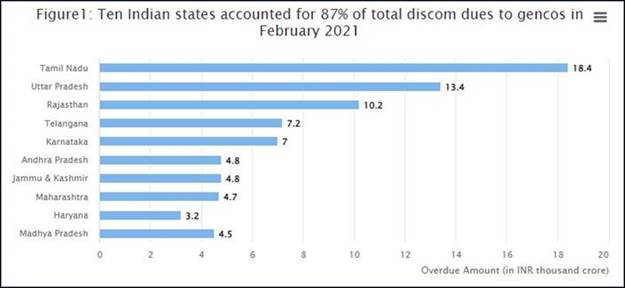 Inefficiencies in power distribution
Inefficiencies in power distribution, such as large transmission and distribution losses on power, have further strained finances of DISCOMs, who have been heavily borrowing from banks to operate themselves.
Lack of independence of DISCOMS
State government-owned distribution companies lack the competence and independence to work efficiently, which in turn makes them financially unviable.
Non-compliance with revised retail power tariff
Despite the Centre's prescription for annual or periodical revision of retail power tariff, States have not complied.

The general approach is to use electricity as a tool for political agenda and make promises to allure people despite knowing that such assurances, if implemented, are not sustainable in the long run.
Delays or lack of payment of electricity bills
The non-payment of electricity bills by domestic consumers, an issue partly linked to poor billing practices, has plagued DISCOM finances in many states. During the lockdown, payment rates declined furtheras a result of suspended physical billing and payment collection, especially in Uttar Pradesh, Maharashtra, and Haryana. When the lockdown ended, and consumers suddenly received high cumulative bill amounts, it deepened their distrust in the billing process, This, combined with income losses, led to a further drop in payment rates.

Pending dues from state-level government departments (INR 41,700 crore) is another issue.
Loss of revenue from high paying consumers
Lower energy demand from high-paying commercial and industrial (C&I) consumers added to discoms' revenue losses. It also led to a reduction in cross-subsidy inflow from C&I consumers.

States like Gujarat, Odisha, Uttarakhand and Himachal have high C&I shares (ranging from 47% to 63%) and have seen a significant drop in demand between April and June 2020. Cross subsidies from C&I consumers supported discoms to the extent of INR 75,000 crore in FY 2019.
Power as a Poll promise
In 2022, parties like the Aam Aadmi Party (AAP), Samajwadi Party (SP), Congress, Dravida Munnetra Kazhagam (DMK), and All India Anna Dravida Munnetra Kazhagham (AIADMK) promised free power to farmers, residential households consuming up to 300 units, small traders, small shop-owners, among others.
ACS VS ARR
Even after joining the Ujwal DISCOM Assurance Yojana (UDAY) — a scheme meant for improving the health of state-owned electricity distribution companies (DISCOM) many state DISCOMS like Tamil Nadu could not bring down gap between the Average Cost of Supply (ACS) and the Average Revenue Realised (ARR).
Heavy subsidies to Agriculture
A common feature of the power distribution policies of the States is to provide free or heavily subsidized supply to agriculture. The connections for the farm sector are unmetered. It's a burden on Government and public.
Freebies and use of electricity as political agenda
In Tamil Nadu, all domestic consumers are entitled to 100 units of free electricity bi-monthly since May 2016 when the AIADMK retained power. The existing DMK Government has decided not to disturb this arrangement.

In Gujarat, the Aam Aadmi Party (AAP) has promised free electricity if it is voted to power in the Assembly election to be held later this year.

The general approach of many parties is to use electricity as a tool for their political agenda and make promises to allure peopledespite knowing that such assurances, if implemented, are not sustainable in the long run.
Lack of metering
Tamil Nadu, which has been implementing free power supply for the sector since the mid-1980s, had long resisted the installation of meters even for fresh connections.
Technical and commercial losses in comparison to other countries
The technical and commercial losses of India's DISCOMSare well above those of its peer nations and almost 5 times that of the world average as reported by the Government of India in its FY21 Economic Survey.

Not all of what is generated is supplied, not all of what is supplied is metered, not all of what is metered is billed, and not all of what is billed is collected as revenue from customers. Between generation and bill collection, about 20% of units go unaccounted for and therefore cause a revenue loss to DISCOMS.
The spiral of payment risk
The fallout of inefficiency and mismanagement is reflected in the DISCOMS' ability to pay power generators and other vendors, creating a downward spiral of payment security risk.
Delays in subsidy disbursals
States like Andhra Pradesh, Chhattisgarh, Karnataka, Punjab, Rajasthan, and Telangana have consistently defaulted on full subsidy payments. These delays are expected to have persisted in FY 2021 and have likely further stretched the short-term working capital requirement of discoms.

The tariff subsidy burden on discoms increased by 140 per cent between 2014-2019 and is estimated to be higher than INR 1.16 trillion1 in FY 2020.
Steps being taken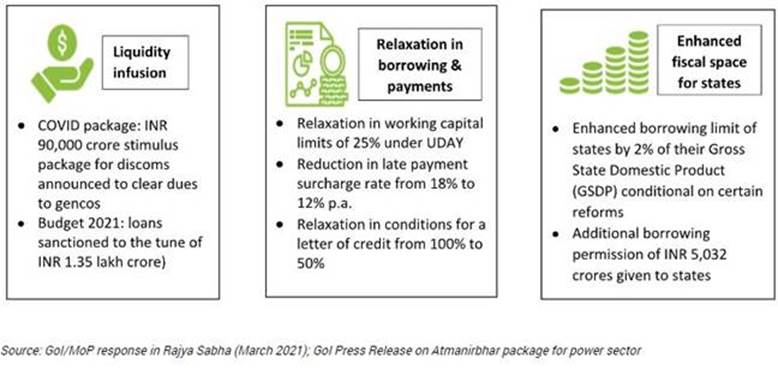 Liquidity Infusion Scheme
To help these DISCOMs, the Central Government in 2020, announced a Liquidity Infusion Scheme (Aatmanirbhar Bharat Abhiyan), under which loans of Rs 1,35,497 crore have been sanctioned. As of December 31, 2021, a total of Rs 1.03 lakh crore has been disbursed.
Ujwal Discom Assurance Yojana
In 2015, the Government of India launched Ujwal Discom Assurance Yojana Scheme to aid operational and financial turnaround of Power Distribution Companies (DISCOMs) owned by any state.

This scheme was established with a vision to provide affordable and accessible 24×7 power to all.

It also aims to provide a solution for revenue-side efficiency and cost-side efficiency. Moreover, the scheme envisages reform measures in the following sectors—generation, transmission, distribution, coal and energy efficiency.
Suggestions
Mandatory Power Revision
The Reserve Bank of India (RBI) has issued a guideline to commercial banks that if lending is to be provided to any State-owned power utility including DISCOMs, the entity should have filed a tariff revision petition by November 30 every year.
Revamped Distribution Sector Scheme (RDSS)
The Centre has released grant under the Revamped Distribution Sector Scheme (RDSS).

The Scheme aims to reduce the AT& C losses to pan-India levels of 12-15% and ACS-ARR gap to zero by 2024-25 by improving the operational efficiencies and financial sustainability of all DISCOMs/ Power Departments excluding Private Sector DISCOMs.
Meter Segregation
Segregation of feeders has been suggested as an option to arrive at the accurate consumption of the farm sector so that the disproportionate quantum of consumption is not attributed to agriculturists in the absence of meters. Gujarat is cited as a success story in this regard.

In Manipur, according to the Niti Aayog's report, prepaid metering was supplemented with improved power supply, resulting in improved billing and collection efficiency as well as lower commercial losses.
Incentive packages
Example:

The Madhya Pradesh Electricity Regulatory Commission, in its tariff order of March 2022, came out with an incentive package in the area of demand side management.

It stipulated that an incentive equal to 5% of energy charges should be given on installation and pushed for the use of energy saving devices such as ISI energy efficient motors for pump sets and programmable on-off/ dimmer switch with automation for street lights.
Five actionable measures
Five Actionable Measures could help the sector address its mammoth debt levels, and become financially sustainable and operationally efficient in the medium term.

Implementation will require a collaborative effort by DISCOMS, Central and State Governments.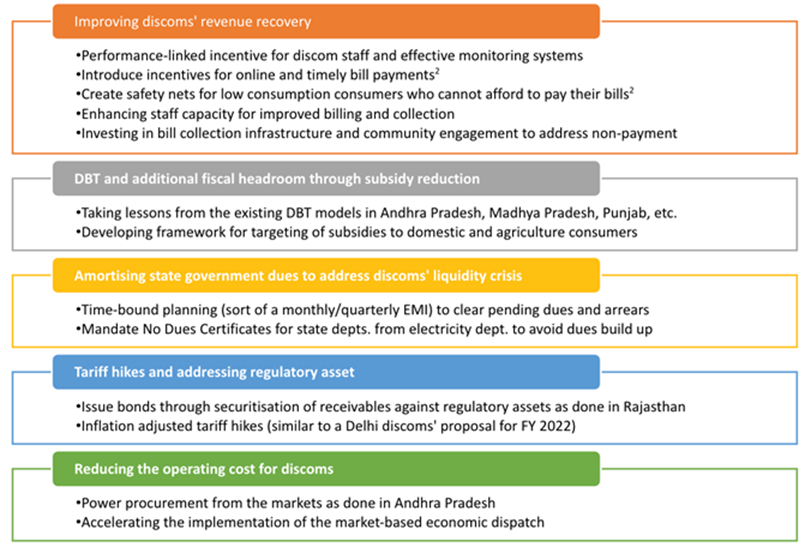 Final Thoughts
India's inefficient, loss-making discoms jeopardise investments by other players, thereby impacting the long-term flow of funds for growth and development of the sector.

Every single agency or stakeholder in the value chain of power supply — from coal miners and the railways to generators and electrical equipment vendors — are impacted by the viability of DISCOMS.

Efficient distribution operation is crucial not only for development of the power sector but also for the economy as a whole, since reliable electricity supply has a direct correlation with GDP.

Resources adequacy and DISCOM viability are two sides of the same coin. The distribution business turnaround should be the core priority for policymakers to minimize waste and optimize the use of limited resources, including fuel, finance and the workforce.
https://indianexpress.com/article/business/commodities/promise-now-pay-later-ails-power-sector-8076990/