PRADHAN MANTRI GARIB KALYAN ANNA YOJANA (PMGKAY)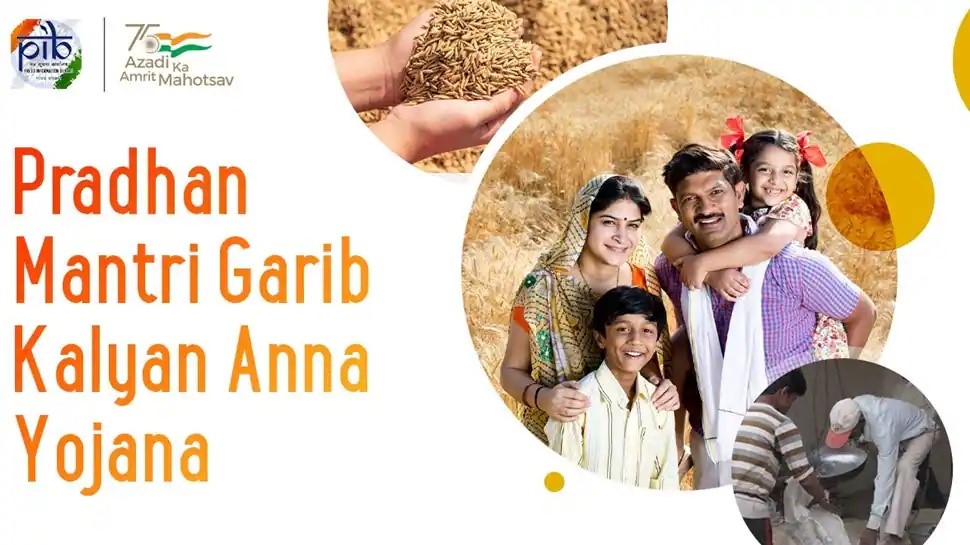 Copyright infringement not intended
Picture Courtesy: zeenews.india.com
Context: The Prime Minister announced to extend the Pradhan Mantri Garib Kalyan Anna Yojana (PMGKAY) free ration scheme for five more years.
Details
The Pradhan Mantri Garib Kalyan Anna Yojana (PMGKAY) is a government program in India that was introduced in 2020 during the Covid-19 pandemic.

It aims to provide free food grains to eligible ration card holders under the National Food Security Act, 2013 (NFSA).
Extension Details
The PMGKAY program was first introduced by the Indian government as a response to the COVID-19 pandemic. It aimed to provide food security and support to vulnerable populations during the health crisis.
Initially, the program was extended until December 2022, ensuring that its benefits continued to reach those in need. Later, it was extended for an additional year until December 2023, with the significant development of merging it with the existing National Food Security Act (NFSA).

As the scheme approached its expiry, the government once again extended it, this time for an additional five years.
Scope
The PMGKAY program encompasses two main categories of ration card holders under the National Food Security Act (NFSA) – Antyodaya Anna Yojana (AAY) and Priority Households (PHH), ensuring broad coverage across vulnerable households.

AAY households, irrespective of their family size, are guaranteed a stable food supply with a fixed allocation of 35 kg of food grains per month

, addressing the basic nutritional needs of the most marginalized families in the country.

Priority Households (PHH) receive foodgrain allocations based on the number of family members, with each member eligible for 5 kg of foodgrains per month

. This targeted approach ensures that support is tailored to the specific requirements of individual families.

In addition to the regular entitlements, the PMGKAY program provides eligible households with extra free ration, augmenting their food security and mitigating hunger-related challenges, thereby enhancing the overall well-being of vulnerable families.
Merger with NFSA
In January 2023, PMGKAY was merged with the National Food Security Act (NFSA), resulting in a unified system.

Under this merger, all ration distributed to Antyodaya Anna Yojana (AAY) and Priority Households (PHH) families is now provided free of cost through the NFSA platform.

All essential commodities, previously covered under PMGKAY, are now accessible without any cost, ensuring food security for the most vulnerable sections of society.

The merger and discontinuation of separate PMGKAY provisions have led to substantial government savings

, amounting to approximately Rs 15,000 crore every month, it enables the government to allocate resources efficiently, supporting various welfare programs and initiatives for the benefit of the populace.
Allocations
Since its initiation in 2020, the government has allocated a substantial 1,118 lakh metric tonnes of foodgrains from its central procurement pool to execute the Pradhan Mantri Garib Kalyan Anna Yojana (PMGKAY).

The total cost of these foodgrain allocations reached a substantial Rs 3.9 lakh crore, reflecting the government's financial commitment to providing essential sustenance during challenging times.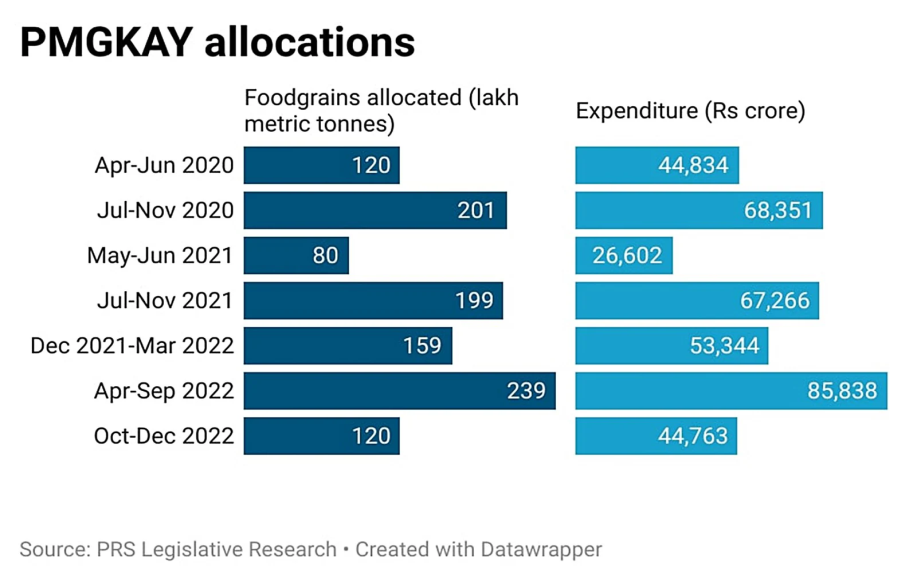 Financial Impact
The discontinuation of separate PMGKAY provisions meant an additional financial commitment, causing the total food security bill to escalate significantly to approximately Rs 2.87 lakh crore in the financial year 2022-23.
The government's decision to provide free ration under NFSA resulted in an annual revenue loss of Rs 13,900 crore, as it discontinued the sale of subsidized food grains. This loss in revenue was a trade-off for ensuring widespread access to essential food supplies for vulnerable populations.

Despite the financial challenges, the move to merge PMGKAY with NFSA emphasized the government's commitment to prioritizing social welfare.

The increased expenditure reflected a deliberate choice to invest in food security,

demonstrating the government's dedication to addressing hunger and ensuring nutritional support for the underprivileged sections of society.
Budget Allocation
In the latest budget, the government allocated slightly less than Rs 2 lakh crore for all food subsidies, indicating a notable reduction in financial support for food security programs. This allocation reflects current fiscal priorities and constraints.
This allocation marks a substantial decrease from the peak expenditure observed during the pandemic when the food subsidy outlay had reached a significantly higher Rs 5.41 lakh crore. The reduction indicates a shift in budgetary focus and a reevaluation of spending patterns.

The decrease in food subsidy allocation suggests fiscal adjustments and a reallocation of resources, possibly driven by evolving economic conditions and policy considerations. It highlights the government's efforts to balance social welfare initiatives with broader economic and financial objectives.

Conclusion
The extension of PMGKAY for another five years ensures that the program continues to provide essential food grains to vulnerable households in India without cost, thereby supporting their food security and well-being. The merger with NFSA and discontinuation of separate provisions have streamlined the distribution process and contributed to government savings.
Must Read Articles:
Pradhan Mantri Garib Kalyan Anna Yojana (PM-GKAY): https://www.iasgyan.in/daily-current-affairs/pradhan-mantri-garib-kalyan-anna-yojana-pm-gkay
FOOD SECURITY IN INDIA: https://www.iasgyan.in/daily-current-affairs/food-security-in-india
PRACTICE QUESTION
Q. How has the implementation of the PM Garib Kalyan Anna Yojana contributed to enhancing food security in India, especially during times of crisis? What are the key features of this scheme, and how has it addressed the challenges faced by vulnerable populations in accessing essential food items?