PRADHAN MANTRI NATIONAL APPRENTICESHIP MELA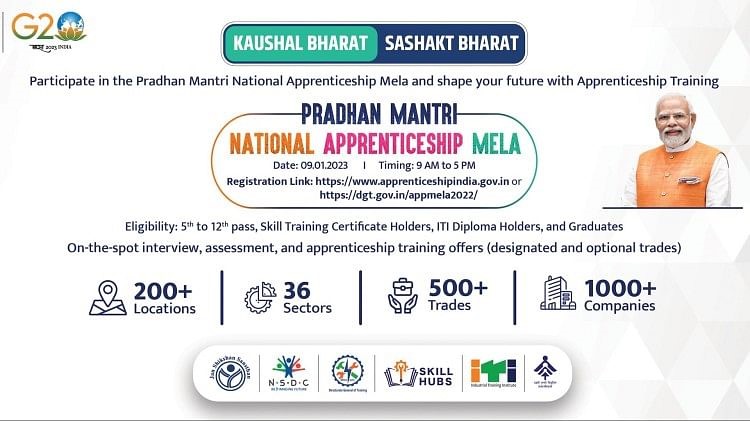 Disclaimer: Copyright infringement not intended.
Context
Ministry of Skill Development and Entrepreneurship (MSDE) organized the Pradhan Mantri National Apprenticeship Mela (PMNAM) in over 200 districts across the country.
About PMNAM
Apprenticeship melas are held throughout the country on the second Monday of every month.
In these melas, selected individuals are offered apprenticeship opportunities during which they receive a monthly stipend in accordance with government criteria for gaining new skills.
Apprenticeship is considered the most sustainable model of skill development, and it has been getting a big boost under the Skill India Mission.
Highlights of 2023 PMNAM
Several local businesses and organizations have been invited to be a part of this apprenticeship mela to provide relevant apprenticeship training opportunities to local youth.
The event witnessed the participation of many companies representing various sectors.
Eligibility
The candidates who are Class 5 to Class 12 pass out or have skill training certificates or are ITI certificate holders or Diploma holders or graduates could apply in this apprenticeship mela.
Significance of the Platform
Pradhan Mantri National Apprenticeship Mela is a golden opportunity for India's youth to connect with the industry and to avail the relevant apprenticeship training opportunities.
Through a single platform, participating organizations can connect with potential apprentices, and choose from their qualifications on the spot.
This will strengthen the livelihood opportunities of the youth.
Additionally, the system is designed to cater to those seeking to skill/upskill and make headway in their careers.
To drive the country's development and growth, apprenticeship training must be prioritized to help create opportunity for work-based learning and exposure along with a stipend being offered to the youth under its earn-while-you-learn model.
This will act as a window to the industry for the apprentices, where they can get a globally recognized certificate along with industry-oriented training.
The government is striving to train 15 lakh youth per annum through apprenticeship training and to fulfil this mission.
PMNAM is an initiative that will increase the participation of establishments and the youth.
It is also providing awareness to the youth on various opportunities existing across the participating companies.
PRACTICE QUESTION
Q) The government is striving to train 15 lakh youth per annum. What role can Apprenticeship Melas play in fulfilling this mission?
https://newsonair.gov.in/Main-News-Details.aspx?id=460571#:~:text=Apprenticeship%20melas%20are%20held%20throughout,criteria%20for%20gaining%20new%20skills.