PRE-SUMMIT OF TIGER RANGE COUNTRIES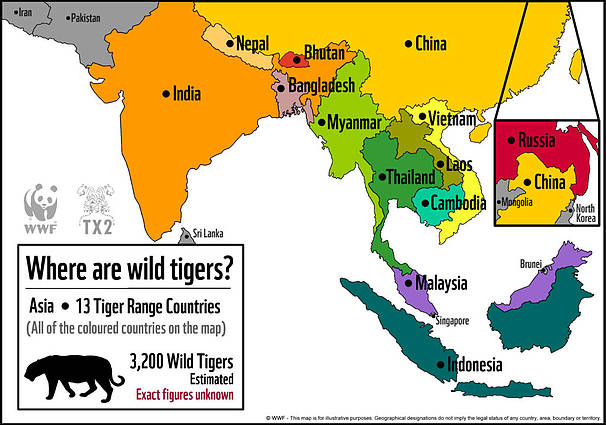 Copyright infringement is not intended
Context: India hosted the Pre-Summit meeting of Tiger Range Countries (TRCs).
Details:
The Tiger Range Countries Summit is scheduled to be held at Vladivostok, Russia on 5th September 2022.

In January 2022, the 4th Asia Ministerial Conference on Tiger conservation was held.

The meeting was attended by 12 tiger range countries except for China and Indonesia.

There are 13 Tiger Range Countries (TRC): India, Bangladesh, Bhutan, Cambodia, Lao PDR (People's Democratic Republic), Malaysia, Myanmar, Nepal, Russia, Thailand, Viet Nam, China and Indonesia.

India is committed to bringing all potential tiger habitats within the country under the tiger reserve network.

The meeting aims to finalise the declaration on tiger conservation to be adopted at the Summit.
Tiger
Tiger (Panthera tigris) is the largest living cat species.

It is an apex predator.

Tiger cubs stay with their mother for about two years and then become independent, leaving their mother's home range to establish their own.

Since the early 20th century, tiger populations have declined by at least 93%.

Major reasons for population decline are habitat destruction, habitat fragmentation and poaching.

Tigers are also victims of human-wildlife conflict, particularly in range countries with a high human population density.

Today, the tiger's range is fragmented, stretching from Siberian temperate forests to subtropical and tropical forests on the Indian sub

continent

, Indo-china and Sumatra.

The tiger is listed as Endangered on the IUCN Red List.

The tiger is the national animal of India, Bangladesh, Malaysia and South Korea.

As of 2019, India's Tiger population stands at a total of 2967 which is 70% of the global tiger population.

India successfully fulfilled its target of doubling tiger numbers, made at St. Petersburg in 2010, much before the target year of 2022.

The Indian states with the Tiger population:

Madhya Pradesh – 526

Karnataka – 524

Uttarakhand – 442

Maharashtra – 312
https://pib.gov.in/PressReleasePage.aspx?PRID=1850581#:~:text=Pre%2Dsummit%20meeting%20of%20the%20Tiger%20Range%20Countries%20as%20a,in%20progress%20in%20New%20Delhi.