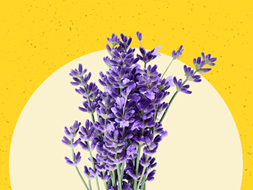 Disclaimer: Copyright infringement not intended.
Context
"Purple Revolution" is Jammu & Kashmir's contribution to "Start-ups India" – Government.
Lavender
Lavender (Lavandula angustifolia) is an evergreen plant native to the Mediterranean.

Its flower and oil have a popular scent and are also used as medicine.

Lavender contains an oil that seems to have calming effects and might relax certain muscles. It also seems to have antibacterial and antifungal effects.

People commonly use lavender for anxiety, stress, insomnia, depression, dementia, pain, and many other conditions, but there is no good scientific evidence to support many of these uses.

In India, the lavender crop is cultivated in low rainfall regions and on the slopes of hills of Himachal Pradesh (HP) and Uttar Pradesh(UP). The lavender crop is also successfully grown in the Kashmir valley region.
Details
Purple Revolution was launched to empower domestic farmers and support India's aromatic crop-based agro-economy by reducing imports of aromatic oils and increasing homegrown varieties.

And 'Lavender Cultivation' under Aroma Mission started as a part of Purple Revolution.
Aroma Mission
Aromatic plants are used as natural medicines because of their medical properties

. Aromatic Plants include lavender, damask rose, mushk bala, etc.

Aromatic plants are mainly used for oil extraction that are used in various industries: Cosmetics, Pesticides, flavoring and fragrance, Insect repellents and herbal beverages.

The Aroma Mission was started with the objective of promoting the cultivation of aromatic crops.

Twin aim of the mission

- Increase production to meet domestic demand and also to become a global leader in the production and export.

Technical support from CSIR-Central Institute of Medicinal and Aromatic Plants (CSIR-CIMAP), Lucknow.

Government to Promote cooperatives for marketing activities, promotion of cultivation and processing of high value aromatic plants, development of agro technologies, setting up of processing facilities, promoting Skill development, infrastructure support, Credit facilities, etc.
Expected outcome of the Mission
Bring about additional area of 5500 ha under aromatic crops cultivation.

Promoting aromatic crops in rain-fed/degraded land across the country.

Enhance technical and infrastructural support

to farmers/growers all over the country

Promote market buy-back mechanisms

to ensure profitable prices for the farmers/growers.

This mission also aims to promote Job Creation, Rural development, Women empowerment.

By Increasing aromatic crop production, India could take a big step towards achieving the goal of 'Atmanirbhara Bharat'.