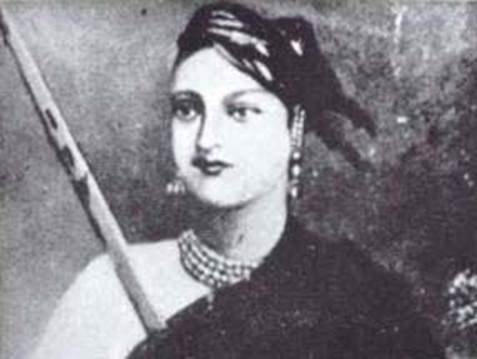 Copyright infringement not intended
Context: The Prime Minister, Shri Narendra Modi has remembered Rani Lakshmibai on her Jayanti. Shri Modi said that her courage and monumental contribution to our nation can never be forgotten.
Details:
Lakshmi Bai, (born November 19, 1835, Kashi, India—died June 17, 1858, Kotah-ki-Serai, near Gwalior), rani (queen) of Jhansi and a leader of the Indian Mutiny of 1857–58.

Brought up in the household of the peshwa (ruler) Baji Rao II, Lakshmi Bai had an unusual upbringing for a Brahman girl.

Growing up with the boys in the peshwa's court, she was trained in martial arts and became proficient in sword fighting and riding.

She married the maharaja of Jhansi, Gangadhar Rao, but was widowed without bearing a surviving heir to the throne.

Following established Hindu tradition, just before his death the maharaja adopted a boy as his heir.

Lord Dalhousie, the British governor-general of India, refused to recognize the adopted heir and annexed Jhansi in accordance with the doctrine of lapse. An agent of the East India Company was posted in the small kingdom to look after administrative matters.

The 22-year-old queen refused to cede Jhansi to the British.

Shortly after the beginning of the mutiny in 1857, which broke out in Meerut, Lakshmi Bai was proclaimed the regent of Jhansi, and she ruled on behalf of the minor heir.

Joining the uprising against the British, she rapidly organized her troops and assumed charge of the rebels in the Bundelkhand region. Mutineers in the neighbouring areas headed toward Jhansi to offer her support.

Under Gen. Hugh Rose, the East India Company's forces had begun their counteroffensive in Bundelkhand by January 1858.

Offering stiff resistance to the invading forces, Lakshmi Bai did not surrender even after her troops were overwhelmed and the rescuing army of Tantia Tope, another rebel leader, was defeated at the Battle of Betwa.

Lakshmi Bai managed to escape from the fort with a small force of palace guards and headed eastward, where other rebels joined her.

Tantia Tope and Lakshmi Bai then mounted a successful assault on the city-fortress of Gwalior. The treasury and the arsenal were seized, and Nana Sahib, a prominent leader, was proclaimed as the peshwa (ruler).

After taking Gwalior, Lakshmi Bai marched east to Morar to confront a British counterattack led by Rose. Dressed as a man, she fought a fierce battle and was killed in combat.