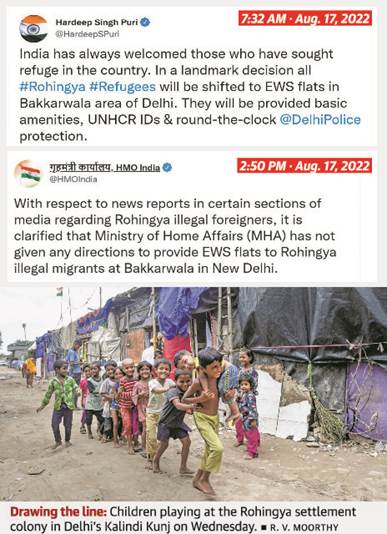 Copyright infringement is not intended
Context: Hours after Minister for Urban Development Hardeep Singh Puri tweeted that all Rohingya migrants from Myanmar living in a camp in Delhi will be shifted to flats, the Ministry of Home Affairs (MHA) issued a strong denial.
Details:
The Ministry also said that it had issued orders that the shanty town where the Rohingya were now living in be designated a "detention centre", pending the deportation of all of the hundreds of people living there.

"In a landmark decision, all Rohingya refugees will be shifted to EWS flats in Bakkarwala area of Delhi. They will be provided basic amenities, UNHCR (UN High Commission for Refugees) IDs & round-the-clock Delhi Police protection," Mr. Puri tweeted, adding that India had always welcomed refugees.

After a storm of criticism from groups such as the Vishwa Hindu Parishad (VHP), the Home Ministry denied any such plan had been cleared by the Centre, and also blamed the Delhi government for the proposal to move the Rohingya "illegal foreigners", indicating it was not responsible for the decision.

The Home Ministry also said that it had directed the Aam Aadmi Party (AAP) government of Delhi to declare the Madanpur Rohingya area a "detention centre" immediately, which it has not done so far.
About:

https://epaper.thehindu.com/Home/ShareArticle?OrgId=GA4A5ORI6.1&imageview=0