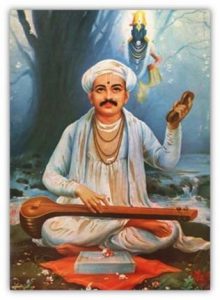 Copyright infringement not intended
Context: Prime Minister Narendra Modi will inaugurate the Sant Tukaram Shila Mandir in the temple town of Dehu in Pune district.
More on the news:
Shila refers to a rock that is currently on the Dehu Sansthan temple premises, and that for centuries has been the starting point of Wari, the annual pilgrimage to Pandharpur.

The Bhakti saint Sant Tukaram had sat on this piece of rock for 13 continuous days when challenged about the authenticity of the Abhyangs he had written.

Sant Tukaram and his work are central to the Warkari sect spread across Maharashtra. His message about a casteless society and his denial of rituals had led to a social movement. Sant Tukaram is credited with starting the Wari pilgrimage.
Sant Tukaram:
Tukaram was born in the Indian state of Maharashtra. Tukaram Bolhoba Ambile was his full name.

His master was Saint Chaitanya Mahaprabhu of the Bhakti movement.

A 17th-century poet-saint who lived with Maratha ruler Shivaji Maharaj and saints such as Eknath and Ramdas.

His poetry was dedicated to Vithoba or Vitthala, an avatar of Vishnu, the Hindu God.

He is most known for his Marathi Abangas (dohas), which are a rich inheritance of Gatha - devotional poetry, and he was also crucial for laying the groundwork for Maratha nationalism.

He emphasized community-based worship through spiritual melodies known as Kirtans. He promoted the virtues of piety, forgiveness, and inner tranquillity.
https://indianexpress.com/article/explained/the-sant-tukaram-temple-and-its-significance-7963601/