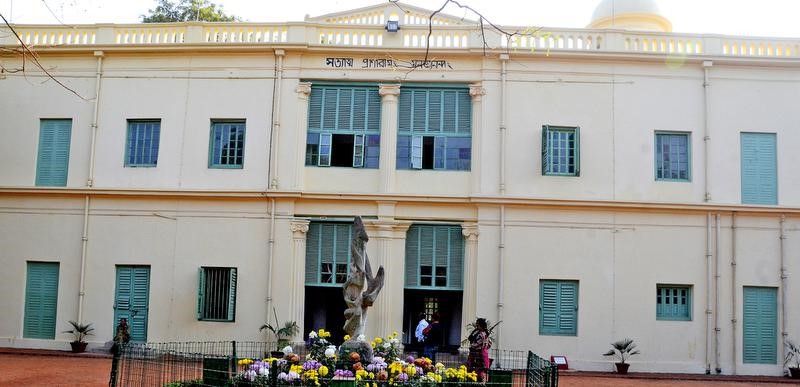 Disclaimer: Copyright infringement not intended.
Context
Santiniketan, a town established by Nobel laureate Rabindranath Tagore in West Bengal's Birbhum district, has been added to UNESCO's World Heritage List. This recognition highlights its cultural and historical significance on a global scale.
Details
Foundation of Visva-Bharati University: Santiniketan is the place where Rabindranath Tagore laid the foundations of Visva-Bharati University, which is known for its unique approach to education, emphasizing art, culture, and the integration of human values.

India's 41st World Heritage Site: Santiniketan's inclusion on the UNESCO list makes it India's 41st World Heritage Site, showcasing the rich cultural and historical diversity of the country.

Longstanding Efforts: The efforts to have Santiniketan included in the World Heritage List date back to 2010. The recent proposal for its nomination began in the financial year 2020-21. The Archaeological Survey of India (ASI) has been actively involved in the restoration of several structures in Santiniketan in recent years.
About
Santiniketan is a renowned cultural and educational hub located in the Birbhum district of West Bengal, India.

It holds a special place in Indian history and culture due to its association with Rabindranath Tagore, a Nobel laureate poet, philosopher, and polymath.

Santiniketan translates to "Abode of Peace" and was founded by Tagore as an experiment in education and art, which continues to influence generations of artists, scholars, and thinkers.
History:
Santiniketan was established in 1901 when Rabindranath Tagore moved to this region, inspired by the serene and tranquil environment.

Tagore was dissatisfied with the conventional educational system and wanted to create an institution where education would be more holistic, integrating arts, culture, and nature.

Under his guidance, Santiniketan developed into a unique educational and cultural institution.
Visva-Bharati University:
In 1921, Rabindranath Tagore established Visva-Bharati University within Santiniketan.

It aimed to promote the ideals of a universal, non-sectarian, and holistic education system.

Visva-Bharati remains a prestigious institution known for its emphasis on the arts, literature, and social sciences.

The university comprises various schools, including Shantiniketan (the core campus), Sriniketan (its rural reconstruction center), and several institutes and departments dedicated to diverse disciplines.
Cultural Significance:
Santiniketan has been a crucible for art and culture in India.

It was instrumental in the development of the Bengal School of Art, a significant movement in Indian art. The school emphasized traditional Indian art forms, nature, and the spirit of the land.

The annual Poush Mela and Basanta Utsav (Holi festival) celebrations at Santiniketan attract people from all over India. These events showcase the rich cultural heritage of India, with performances of music, dance, theater, and more.

Rabindranath Tagore's residence, known as the "Rabindra Bhavan," is a major attraction in Santiniketan. His personal belongings, manuscripts, and artistic works are preserved here, allowing visitors to gain insight into his life and creative process.
Landmarks and Attractions:
Upasana Griha (Prayer Hall): A red-brick structure designed by Tagore himself, it's a place for meditation and prayer.

Kala Bhavana: The art college at Visva-Bharati, it continues the legacy of the Bengal School of Art.

Patha Bhavana: The school where Tagore's educational philosophy is put into practice.

Sangeet Bhavana: The music school, fostering the study and practice of Indian classical music.

Rabindra Bhavan: The museum and archive dedicated to Rabindranath Tagore.

Khoai: A nearby natural red soil ravine offering scenic beauty.
Conclusion
Santiniketan remains an important cultural and educational center in India. It is a testament to Rabindranath Tagore's vision of a holistic education system that values art, culture, and nature. It continues to inspire students, artists, and intellectuals from all over the world, making it a place of enduring significance in Indian heritage and global culture.
MUST READ ARTICLES:
https://www.iasgyan.in/daily-current-affairs/world-heritage-sites-47
https://www.iasgyan.in/daily-current-affairs/rabindranath-tagore-24
PRACTICE QUESTION
Q. Which of the following statements about Santiniketan is/are not true?
A) Santiniketan was established by Rabindranath Tagore in 1901.
B) Santiniketan is located in the Birbhum district of West Bengal, India.
C) It is the birthplace of Rabindranath Tagore.
D) Santiniketan is home to Visva-Bharati University.
Correct answer: c)