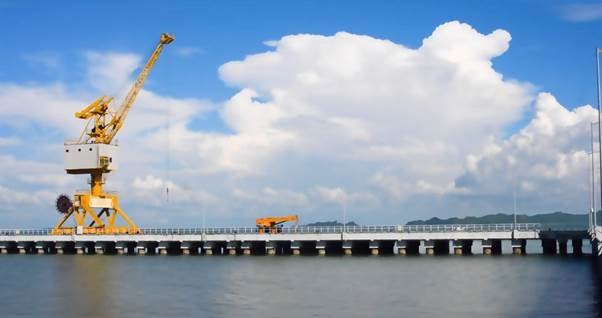 Disclaimer: Copyright infringement not intended.
Context
India and Myanmar jointly inaugurated the Sittwe Port in Rakhine State, Myanmar.

About the Port
Sittwe Port has been developed as a part of the Kaladan Multi-Modal Transit Transport Project (KMTTP).
It is funded under grant in aid assistance from the Government of India.
Once fully operationalized the waterway and road components of KMTTP will link the East coast of India to the North-eastern states through the Sittwe port.
This project was conceptualized to provide an alternative connectivity of Mizoram with Haldia / Kolkata / any Indian ports through Kaladan River in Myanmar.
The project envisages highway / road transport from Mizoram to Paletwa (Myanmar), thereafter from Paletwa to Sittwe (Myanmar) by Inland Water Transport (IWT) and from Sittwe to any port in India by maritime shipping. The project comprises of following segments (Index map is also enclosed):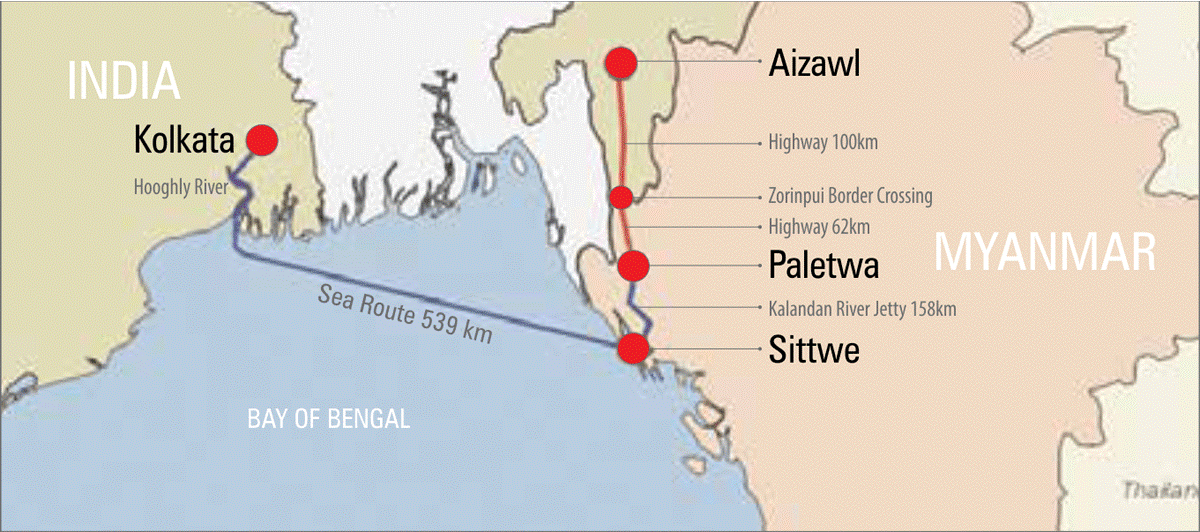 Key benefits of Sittwe Port
It is a deep underwater port on the Bay of Bengal that would improve the system of transportation between southwest Myanmar and northeast India.

The commodities may be sent from Kolkata to the Sittwe port, where they can subsequently be delivered to Mizoram.

The Kaladan Project will offer a different connection between North-East India and the rest of the nation. Access to India's seven North-East states is now provided through the constrictive Siliguri Corridor. It is also called the Chicken's Neck.

Transportation delays and expense overheads will be greatly minimised.

With the development of Sittwe Port, the cost and time of transportation of goods between Kolkata and Agartala and Aizwal is expected to decrease by 50 percent.
Significance
The operationalisation of Sittwe Port would enhance bilateral and regional trade as well as contribute to the local economy of Rakhine State of Myanmar.
The greater connectivity provided by the Port will lead to employment opportunities and enhanced growth prospects in the region.
The development of Sittwe Port is expected to boost trade between the two nations and contribute to the economic growth of the region. The port's location makes it strategically important for India's Act East Policy, which aims to strengthen ties with the Asia-Pacific region.
Importance of Myanmar
India attaches importance to its relations with Myanmar as part of its 'Act East' policy.
New Delhi has not openly condemned the country's generals since the February 2021 military coup although it has appealed for cessation of violence and restoration of democracy in the Southeast Asian nation.
India also needs Myanmar's cooperation to flush out some of the northeastern rebel groups, which are still operating from its soil.
READ ABOUT KALADAN MULTIMODAL PROJECT: https://www.iasgyan.in/daily-current-affairs/kaladan-multi-modal-transit-transport-project
PRACTICE QUESTION
Q) Recently, India and Myanmar jointly inaugurated the Sittwe Port. Write a detailed note on the project and its components. What is the strategic importance of Sittwe Port?