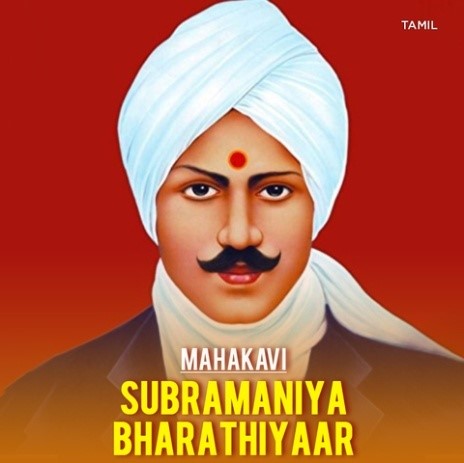 Disclaimer: No Copyright infringement intended.
Context
The Prime Minister, Shri Narendra Modi has paid homage to Mahakavi Subramania Bharati on his 100th Punya Tithi.
Who was Subramaniya Bharathi?
He was a writer, poet, Indian independence activist and a social reformer.
Popularly known as "Mahakavi Bharathi", he is considered one of the greatest Tamil literary figures of all time.
Contribution
As a poet
Through his patriotic poems he exhorted the people to join the independence struggle and work vigorously for the liberation of the country.
"Sudesa Geethangal", "Kannan Pattu" "Nilavum Vanminum Katrum" "Panchali Sabatam" "Kuyil Pattu" are some of his greatest works.
As a Nationalist
His vision of nationalism was one that was secular, against casteism and sexism, and pan-Indian.
Bharathi used to attend the Annual sessions of Indian National Congress and discuss national issues with extremist Indian National Leaders like Bipin Chandra Pal, Tilak and V.V.S. Iyer.
His participation and activities in Benaras Session (1905) and Surat Session (1907) of the Indian National Congress showcased his patriotic fervor.
His wise suggestions and steadfast support to the cause of nationalism rejuvenated many national leaders.
Thus, Bharathi played a pivotal role in the freedom of India.
As a Journalist
Bharathi, began his career as a journalist and as a sub-editor in "Swadesamitran"in 1904.
He also published and edited in journals like "Vijaya" and "India".
His writings induced and influenced the patriotic spirit of the Tamil youth.
As a social reformer
Bharathi was against caste system. He declared that there were only two castes-men and women and nothing more than that.
Above all, he himself had removed his sacred thread and adorned many Dalits with sacred thread.
He advocated temple entry of Dalits.
Bharathi was very clear that unless Indians unite as children of Mother India, they could not achieve freedom.
He believed in women's rights, gender equality and women emancipation.
He opposed child marriage, dowry and supported widow remarriage.
Conclusion
Bharathi did not live for himself but for the people and nation. That is why he is respectfully called as Bharathiyar.