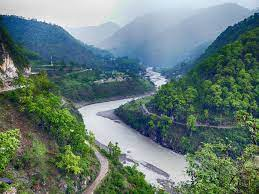 Disclaimer: Copyright infringement not intended.
Context
The Cabinet approved the Memorandum of Understanding (MoU) between India and Nepal to build a bridge over the Mahakali river at Dharchula in Uttarakhand.
Details
Origin
The Sharda River, also called Kali River and Mahakali River, originates at Kalapani in the Himalayas at an elevation of 3,600 m (11,800 ft) in the Pithoragarh district in Uttarakhand.
Course
It flows along Nepal's western border with India and has a basin area of 14,871 km2.
It joins Ghaghra River, a tributary of the Ganges.
It takes the name Kali River from the union of the two streams at Gunji as it flows through the hills.
After Brahmadev Mandi near Tanakpur, it enters the Terai plains, where it is called Sharda River.
Infrastructure
The Pancheshwar Dam, a joint venture of India and Nepal for irrigation and hydro-electric power generation was proposed on this river.
https://www.livemint.com/news/world/cabinet-approves-mou-for-bridge-over-mahakali-river-between-india-and-nepal-11641472404067.html