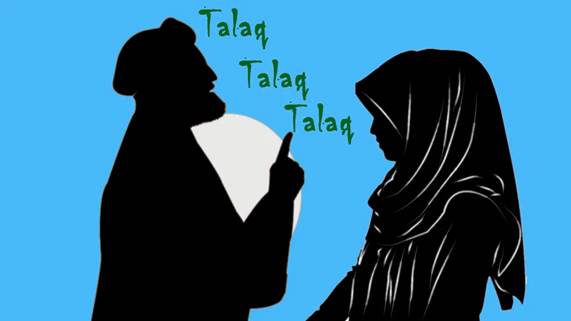 Copyright infringement not intended
In News
In 2017, the Supreme Court's Bench invalidated instant triple talaq

, but even after 5 years, the women petitioners continue to live a life of half-divorcees.

Technically they are still married, practically divorced, but they enjoy no marital rights nor receive any regular maintenance from their separated husbands.

They are practically abandoned; the women cannot remarry in the absence of a legally valid divorce.

None of the men was visited by law enforcement bodies and told to take back their wives.

No arrests could be made for giving instant triple talaq as the Muslim Women (Protection of Rights on Marriage) Act, 2019 came into force.
Muslim Women (Protection of Rights on Marriage) Act, 2019
The Act makes all declarations of instant triple talaq, including in written or electronic form, to be void (i.e. not enforceable in law) and illegal.

It defines talaq as talaq-e-biddat under Muslim personal laws where pronouncement of the word 'talaq' thrice in one sitting by a Muslim man to his wife results in an instant and irrevocable divorce.

The Act makes a declaration of instant triple talaq a cognizable offence, attracting up to three years imprisonment with a fine.

A cognizable offence is one for which a police officer may arrest an accused person without a warrant.

The offence will be cognizable only if information relating to the offence is given by:

The married woman.

Any person related to her by blood or marriage.

The Act provides that the Magistrate may grant bail to the accused. The bail may be granted only after hearing the woman, and if the Magistrate is satisfied that there are reasonable grounds for granting bail.

The offence may be compounded by the Magistrate upon the request of the woman.

Compounding refers to the procedure where the two sides agree to stop legal proceedings, and settle the dispute.

The terms and conditions of the compounding of the offence will be determined by the Magistrate.

A Muslim woman against whom talaq has been declared is entitled to seek subsistence allowance from her husband for herself and for her dependent children.

The amount of the allowance will be determined by the Magistrate.

A Muslim woman, against whom such talaq has been declared, is entitled to seek custody of her minor children.

The manner of custody will be determined by the Magistrate.
Way forward
The Act will improve the existing conditions of Muslim women and will help them to come out of domestic violence and discrimination they are facing in society.

Abolishment of Triple Talaq has contributed to women's empowerment and has given them dignity in society.

It strengthened the "self-reliance, self-respect and self-confidence" of the Muslim women and protected their constitutional, fundamental and democratic rights.
https://epaper.thehindu.com/Home/ShareArticle?OrgId=GS6A59EQI.1&imageview=0&utm_source=epaper&utm_medium=sharearticle