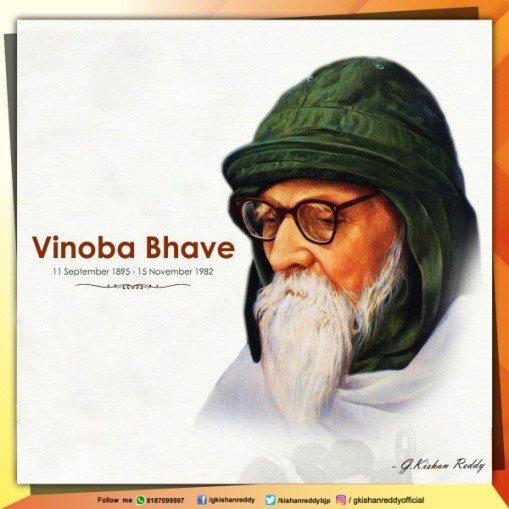 Disclaimer: No Copyright infringement intended.
Context
The Prime Minister, Shri Narendra Modi has paid rich tributes to Acharya Vinoba Bhave on his Jayanti.
About
Vinayak Narahari "Vinoba" Bhave was an Indian advocate of nonviolence and human rights.
Often called Acharya (Sanskrit for teacher), he is best known for the Bhoodan Movement.
He is considered as a National Teacher of India and the spiritual successor of Mahatma Gandhi.
He was an eminent philosopher. The Gita has also been translated into Marathi language by him with the name as Geetai means mother Geeta.
In 1940 he was chosen by Gandhi to be the first individual Satyagrahi (an individual standing up for Truth instead of a collective action) against the British rule.
Bhave also participated in the Quit India Movement.
Bhoodan movement
The Bhoodan movement (Land Gift movement), also known as the Bloodless Revolution, was a voluntary land reform movement.
It was initiated by Bhave in 1951 at Pochampally village, which is now in Telangana, and known as Bhoodan Pochampally.
The Bhoodan movement attempted to persuade wealthy landowners to voluntarily give a percentage of their land to landless people. Philosophically, Bhave was influenced by Mahatma Gandhi's Sarvodaya movement and Gram Swarajya.