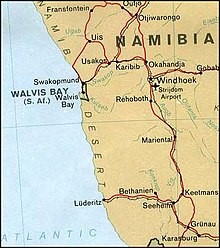 Disclaimer: Copyright infringement not intended.
Context
INS Sumedha in continuation with the Indian Navy's mission-based deployment to West Africa and the Atlantic made a port call at Walvis Bay, Namibia from 10-13 November 23.
This port call is a manifestation of India's warm ties with Namibia, its commitment to enhance maritime security and demonstrate solidarity with friendly nations.
Key Facts About Walvis Bay
Geographical Location:
Walvis Bay is a city located on the western coast of Namibia, along the Atlantic Ocean.
It is situated about 30 kilometers south of the major port town of
Historical Significance:
Walvis Bay has a rich history and was originally settled by indigenous people.
It became a German colony in the late 19th century and later became a British enclave before being incorporated into Namibia in 1994.
Economic Importance:
The city is home to one of Namibia's most crucial deep-water ports, making it a significant hub for trade and commerce.
The port of Walvis Bay serves as a gateway for imports and exports, facilitating international trade for Namibia and neighboring landlocked countries.
Natural Features:
The city is known for its scenic beauty, with the juxtaposition of the Atlantic Ocean and the surrounding desert landscape.
The Walvis Bay Lagoon is a Ramsar Wetland of International Importance, known for its diverse birdlife, including flamingos and pelicans.
Wildlife and Nature Reserves:
The area around Walvis Bay is rich in biodiversity, and there are several nature reserves and parks nearby.
Pelican Point, located on a sand spit extending into the Atlantic Ocean, is known for its seal colony and is a popular destination for wildlife enthusiasts.
Cultural Attractions:
Walvis Bay has a mix of cultural influences, reflecting its history as a German and then a British settlement.
The city has various cultural and historical sites, including museums and landmarks.
Gateway to the Namib Desert:
Walvis Bay is often considered the gateway to the Namib Desert, one of the oldest and most arid deserts in the world.
Tourists often use Walvis Bay as a starting point for exploring the Namib Desert and the iconic sand dunes of Sossusvlei.
Fishing Industry:
The city has a thriving fishing industry, contributing significantly to the local economy.
Fish processing and canning are important activities in Walvis Bay.
Infrastructure Development:
In recent years, there has been significant infrastructure development in Walvis Bay, including the expansion of the port facilities to accommodate larger vessels.
Tourism and Recreation:
Walvis Bay has become a popular tourist destination, offering activities such as dolphin and seal cruises, bird watching, and water sports.
PRACTICE QUESTION
Walvis Bay, often in the news, is a strategic coastal city. Consider the following statements regarding Walvis Bay and choose the correct option:
Walvis Bay is located on the eastern coast of Namibia.
The city played a significant role in the historical spice trade between Asia and Africa.
Walvis Bay is known for its Ramsar Wetland status due to the presence of a diverse bird population.
The port of Walvis Bay is a vital gateway for landlocked countries in the region.
Select the correct answer using the codes below:
A) 1 and 2 only
B) 3 and 4 only
C) 1, 3, and 4 only
D) 2, 3, and 4 only
Answer: C