WORLD PRESS FREEDOM INDEX 2023
Copyright infringement not intended
Context: According to the latest report produced by Reporters without Borders (RSF), India's ranking in the World Press Freedom Index 2023 has dropped to 161 out of 180 countries.
Details
World Press Freedom Index
The World Press Freedom Index is an annual report compiled by Reporters Without Borders (RSF) since 2022.

The Index is a global indicator of the state of journalism and media freedom in 180 countries and territories.

The index is based on various indicators such as media pluralism, independence, transparency, legislative framework, quality of infrastructure and abuses and violence against journalists.

Countries are ranked on a scale from 0–100 points

(A higher score means good).

The top three countries on the ranking are Norway, Ireland, and Denmark, while Vietnam, China, and North Korea placed last.
India and neighbouring countries ranking
In comparison to other South Asian nations, India does poorly in the World Press Freedom Index, ranked 161.

Performed better than India:

Bhutan is ranked 90

Sri Lanka is ranked 135

Pakistan is ranked 150

Afghanistan ranked 152.

Performance poor than India:

Bangladesh is ranked 163.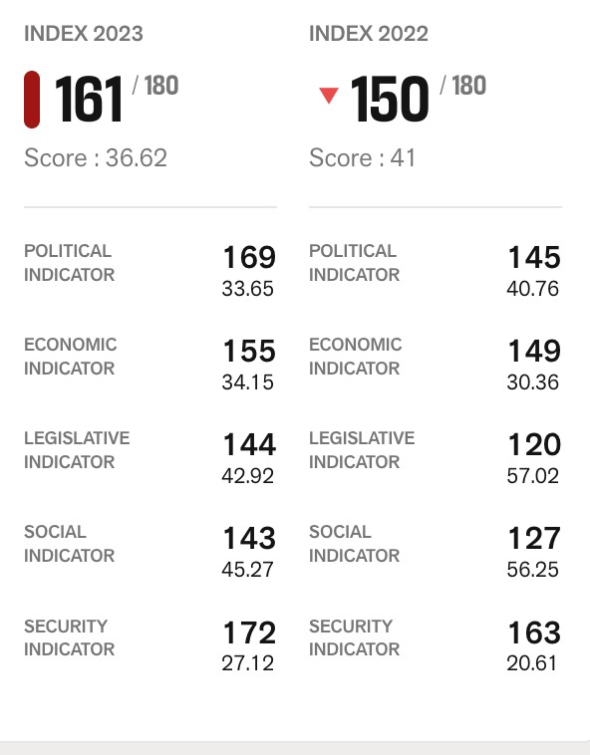 The report mentions several factors that have contributed to the poor ranking of Indian Media
The increasing influence of populist forces that have tried to stifle dissenting voices and impose their version of the truth.
The growing use of disinformation and propaganda to manipulate public opinion and undermine trust in journalism.
The arbitrary detention and prosecution of journalists on various charges such as sedition, terrorism, defamation and contempt of court.

The digital space and democracy are being threatened by online harassment, trolling, cyberattacks, surveillance and censorship.

The violence against journalists has resulted in at least 10 deaths in the past year, making India one of the most dangerous countries for media workers.
Concerns raised by the reports
Journalists face constant pressure and intimidation from various sources. This has eroded the quality and diversity of journalism.

A decline in press freedom in India has serious consequences

for the country's democracy and development.

Free and independent media is a pillar of democracy, as it enables citizens to access reliable information, express their opinions and participate in public debate.

Free and independent media is also a catalyst for development, as it exposes corruption, human rights violations, social injustices and environmental issues.
Steps suggested by the report
Respecting and protecting the constitutional right to freedom of expression and information for all citizens, including journalists.

Repealing or amending laws that can be used to harass and silence journalists, such as sedition, defamation and contempt of court.

Ensuring that journalists can work safely and securely without facing threats or attacks from any quarter.

Promoting media literacy and ethics among both journalists and audiences to combat disinformation and propaganda.

Supporting media pluralism and diversity by encouraging independent and alternative voices and outlets.
World Press Freedom Day 2023
World Press Freedom Day also known as World Press Day is marked on 3rd May.

The day celebrates the role of the press in promoting and protecting human rights around the world.

The theme of 2023 is "Shaping a Future of Rights: Freedom of Expression as a Driver for all other human rights".

UNESCO organized a special anniversary event at UN headquarters in New York, marking 30 years since the UN General Assembly's decision proclaiming an international day for press freedom.
Must Read Articles:
Role of Media: https://www.iasgyan.in/daily-current-affairs/role-of-media-7
PRACTICE QUESTION
Q. Media is often considered the fourth pillar of democracy, as it provides information, education, entertainment and accountability to the public. However, the media also faces many threats and difficulties that can undermine its credibility, independence and diversity. How can we ensure that media remains a positive force for democracy, while also addressing the issues that affect its quality and accessibility?
https://epaper.thehindu.com/ccidist-ws/th/th_delhi/issues/34922/OPS/GM1B6IDOQ.1.png?cropFromPage=true