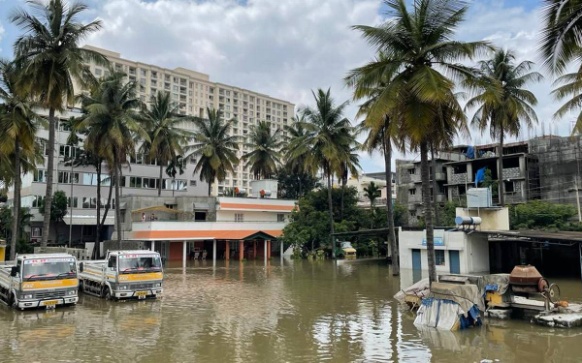 Disclaimer: Copyright infringement not intended.
Context
The unprecedented heavy rain and flooding in Bengaluru over the last few days have opened the Pandora's box of unauthorised constructions on the city's valleys and lake beds.
Yelahanka lake, Singapura lake, Allasandra lake and Amanikere lake overflowed leading to flooding.
The region
Yelahanka is a suburb of Bangalore in Karnataka.
It is older than the Bengaluru city which has now overgrown engulfing many of its neighbouring villages and towns.
It lies to the north of Bangalore City.
Flooding in Yelahanka
The city's topography is characterised by a series of well-defined valleys which radiate from a ridge and fall gradually in all directions.
The four major valleys are Vrishabhavathi valley, Koramangala valley, Challaghatta valley and Hebbal valley.
The lakes were built across these valleys and floodwater used to flow through these valleys.
The lesser-known valleys are Marathalli in the east, Arkavathy and Kethamaranahalli in the northwest, Kathriguppe and Tavarekere in the south and they also play an important role in forming a natural drainage system where rainwater can flow through.
However, due to rapid urbanisation, these natural canals have been blocked by construction layouts, residential apartments and academic institutions.
https://indianexpress.com/article/explained/explained-bengaluru-neighbourhoods-flooded-rain-7637441/