Account Aggregators: New framework to access, share financial data

Figure 2: No Copyright Infringement Intended
Context:
On September 2 eight of India's major banks — State Bank of India, ICICI Bank, Axis Bank, IDFC First Bank, Kotak Mahindra Bank, HDFC Bank, IndusInd Bank and Federal Bank — joined the Account Aggregator (AA) network that will enable customers to easily access and share their financial data.
About Account Aggregators:
According to the Reserve Bank of India, an Account Aggregator is a non-banking financial company engaged in the business of providing, under a contract, the service of retrieving or collecting financial information pertaining to its customer.
It is also engaged in consolidating, organising and presenting such information to the customer or any other financial information user as may be specified by the bank.
About Account Aggregator Framework:
The licence for AAs is issued by the RBI, and the financial sector will have many AAs.
The AA framework allows customers to avail various financial services from a host of providers on a single portal based on a consent method, under which the consumers can choose what financial data to share and with which entity.
Function of Account Aggregator:
It reduces the need for individuals to wait in long bank queues, use Internet banking portals, share their passwords, or seek out physical notarisation to access and share their financial documents.
An Account Aggregator is a financial utility for secure flow of data controlled by the individual.
This will help banks reduce transaction costs, which will enable us to offer lower ticket size loans and more tailored products and services to our customers.
It will also help us reduce frauds and comply with upcoming privacy laws.
Working of Account Aggregator:
It has a three-tier structure: Account Aggregator, FIP (Financial Information Provider) and FIU (Financial Information User).
An FIP is the data fiduciary, which holds customers' data. It can be a bank, NBFC, mutual fund, insurance repository or pension fund repository.
An FIU consumes the data from an FIP to provide various services to the consumer.
An FIU is a lending bank that wants access to the borrower's data to determine if the borrower qualifies for a loan. Banks play a dual role – as an FIP and as an FIU.
Sharing of Data:
An Account Aggregator allows a customer to transfer his financial information pertaining to various accounts such as banks deposits, equity, mutual fund and pension funds to any entity requiring access to such information.
There are 19 categories of information that fall under 'financial information', besides various other categories relating to banking and investments.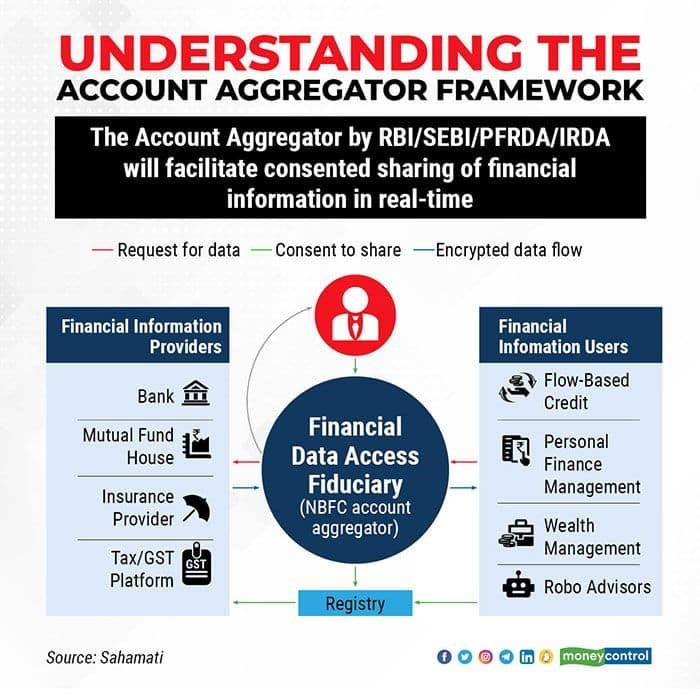 About Data Storage Provisions:
Data transmitted through the AA is encrypted.
AAs are not allowed to store, process and sell the customer's data. No financial information accessed by the AA from an FIP should reside with the AA.
It should not use the services of a third-party service provider for undertaking the business of account aggregation.