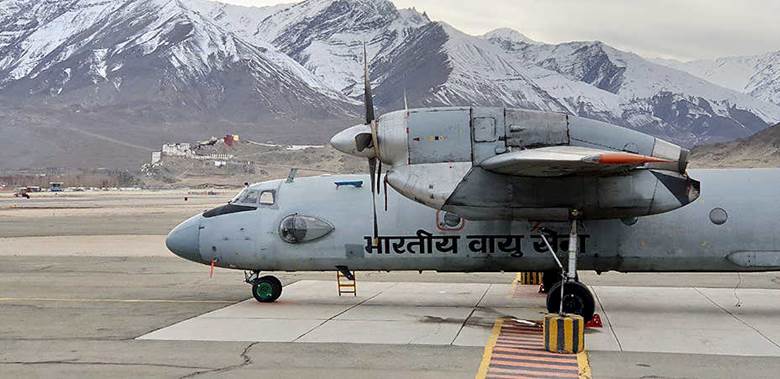 Copyright infringement not intended
Context: As part of efforts to reduce its carbon footprint, the Indian Air Force (IAF) is looking to fly an AN-32 transport aircraft modified to operate on 10% blended biodiesel for 200 flight hours in the next six months, Air Vice Marshal S. K. Jain, Assistant Chief of the Air Force (Maintenance Plans), said
Details:
The aircraft took flight on biodiesel blended with aviation turbine fuel (ATF) for the first time in December 2018.

So far, an AN-32 has flown 65 hours with a 10% blend of biofuel and the performance has been very satisfactory

A second aircraft, a Dornier, was now undergoing ground tests after it had been cleared by the original manufacturer of the engine, Honeywell, for use of 50% biofuel.

The global aviation industry is one of the biggest emitter of greenhouse gases that cause global warming. The fuel consumption of the IAF for 2021-22 was 6.2 lakh kilo litres, which contributed 15 lakh tonnes of carbon dioxide.

Airbus said it had plans to offer 100% sustainable aviation fuel (SAF) compatibility on its commercial aircraft latest by 2030.

Indian Air Force's (IAF's) AN-32 aircraft was formally fleet certified to fly on blended aviation fuel containing up to 10% of indigenous bio-jet fuel.

The indigenous bio-jet fuel was first produced by the CSIR-IIP lab at Dehradun in 2013, but could not be tested or certified for commercial use on aircraft due to lack of test facilities in the civil aviation sector.

In July, 2018, Chief of the Air Staff Air formally announced IAF's intention to permit the use of all its resources for testing and certifying the indigenous fuel.

This fuel is made from Jatropha oil sourced from Chattisgarh Biodiesel Development Authority (CBDA) and then processed at CSIR-IIP, Dehradun.
About AN-32:
An-32 is a

twin engine, tactical light transport aircraft

designed and manufactured by Antonov Design Bureau of Ukraine for the Indian Air Force (IAF).

The An-32 is derived from the An-26 transport aircraft.

A total of 240 An-32s are currently operational worldwide.

An-32 has ten variants

Designed to suit both military and civil operations, the An-32 can take-off and land on rough airfields and dirt runways.

The aircraft is designed to manoeuvre day and night in tropical and mountainous regions, even in hot climatic conditions (up to 55°C).

An-32 features advanced cargo handling devices and a cargo door fitted with a ramp to ease the loading or unloading of freight.

It is also incorporated with an upper cargo handling device to load and unload 3,000kg of payload.

An-32 can fly at a maximum speed of 530km/h and its cruise speed is 470km/h.
https://epaper.thehindu.com/Home/ShareArticle?OrgId=GHUA9KUP5.1&imageview=0