Colour-Coded Weather Warning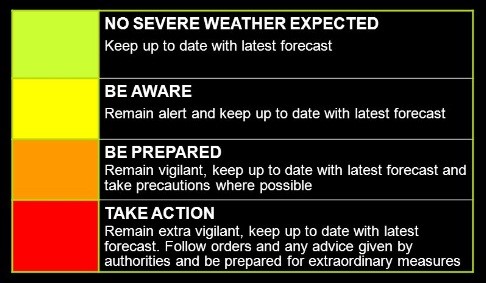 Disclaimer: No Copyright infringement intended.
Context
Amid heavy rainfall in Delhi-NCR on Saturday, the India Meteorological Department (IMD) issued an orange alert for three hours in the region.
About
Colour codes are used in weather warnings for bringing out the severity of the weather phenomena expected as per the Indian Meteorological Department (IMD).
The main purpose is to forewarn disaster management authority and people to keep themselves ready for necessary action related to disaster risk reduction.
These alerts are universal in nature and are also issued during floods, depending on the amount of water rising above land/in a river as a result of torrential rainfall.
The Colour Codes
The IMD uses 4 colour codes:
Green (All is well): No advisory is issued.
Yellow (Be Aware): Yellow indicates severely bad weather spanning across several days. It also suggests that the weather could change for the worse, causing disruption in day-to-day activities.
Orange/Amber (Be prepared): The orange alert is issued as a warning of extremely bad weather with the potential of disruption in commute with road and rail closures, and interruption of power supply.
Red (Take Action): When the extremely bad weather conditions are certainly going to disrupt travel and power and have significant risk to life, the red alert is issued.
https://www.indiatoday.in/cities/delhi/story/imd-orange-alert-delhi-ncr-moderate-heavy-rain-1851759-2021-09-11