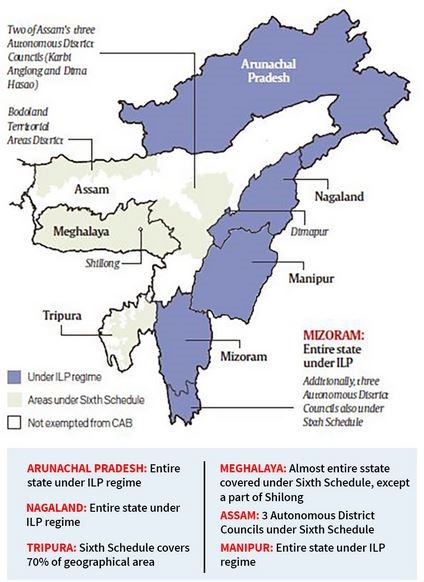 Disclaimer: Copyright infringement not intended.
Context:
Manipur Chief Minister virtually launched the e-ILP platform for effective regulation of the Inner Line Permit (ILP) system in the state.
The e-ILP tracking system
e-ILP platform will play a vital role in regulating the entry, exit and tracking of visitors who are overstaying beyond the permitted duration.
It had been developed to mend the loopholes in the procedures adopted to issue the permit and its tracking system.
The new system will enable mobile tracking of defaulters and help taking necessary action, he added.
The system is also enabled with automated generation of a defaulted list of people who have overstayed beyond the permitted number of days.
The ILP system
It came into effect in Manipur on January 1, 2020.
ILP is a document that Indian citizens from other states are required to possess in order to enter states like Arunachal Pradesh, Mizoram, Nagaland and Manipur.
It is essentially a protective regime to shield the local populations from large-scale migration.
The concept comes from the colonial area.
Under the Bengal Eastern Frontier Regulation Act, 1873, the British framed regulations restricting the entry and regulating the stay of outsiders in designated areas.
This was to protect the Crown's own commercial interests by preventing "British subjects" (Indians) from trading within these regions.
In 1950, the Indian government replaced "British subjects" with "Citizen of India". This was to address loval concerns about protecting the interests of the indigenous people from outsiders belonging to other Indian states.
An ILP is issued by the state government concerned. It can be obtained after applying either online or physically.
It states the dates of travel and also specifies the particular areas in the state which the ILP holder can travel to.
https://indianexpress.com/article/india/manipur-cm-launches-e-ilp-platform-to-regulate-entry-and-exit-7485452/