Military exercise 'Dakshin Shakti'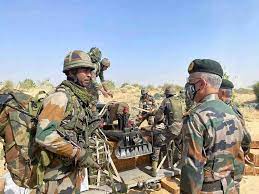 Copyright infringement is not intended
Context:
Indian Army chief General observed military exercise 'Dakshin Shakti'.
About 'Dakshin Shakti':
The exercise began in the deserts of Jaisalmer.
T-72, T-90 as well as Vijayanta tanks of the Army and the IAF's Dhruv and Rudha helicopters, and the Jaguar fighter aircraft participated in the joint exercise.
Aim:
The drill aims to establish the best coordination among the wings of the armed forces, space technology and artificial intelligence.
https://www.business-standard.com/article/current-affairs/army-chief-observes-military-exercise-dakshin-shakti-in-jaisalmer-121112600001_1.html