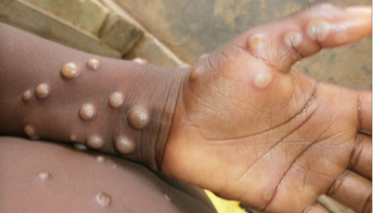 Disclaimer: Copyright infringement not intended.
Context
There is now more evidence for pre-symptomatic transmission of monkeypox virus.

A study published recently in BMJ, found that pre-symptomatic transmission had taken place as long as four days before symptoms manifested. The researchers have estimated that 53% of monkeypox virus transmission have occurred during the pre-symptomatic phase.
Pre-symptomatic transmission
Pre-symptomatic transmission of monkeypox virus will mean that many infections cannot be prevented by simply isolating people showing symptoms. Also, the effectiveness of contact tracing and subsequent quarantine will not be sufficient to break the transmission chain since by the time all the contacts have been traced, they might have already spread the virus to other people. "Pre-symptomatic transmission has implications for vaccination strategies and the feasibility of disease elimination.

According to the researchers, pre-symptomatic transmission can take place in "specific types of high intensity interactions such as sexual contacts where lower pre-symptomatic viral loads are infectious.
Monkey Pox Virus
About
Monkeypox is a viral zoonotic disease that occurs primarily in tropical rainforest areas of Central and West Africaand is occasionally exported to other regions.

The first case of monkeypox in humans was recorded in 1970 in the Democratic Republic of Congoduring a period of intensified effort to eliminate smallpox.

Scientists have so far discovered two distinct genetic groups of monkeypox virus—Central African and West African.
Cause
It is caused by monkeypox virus, a member of the Orthopoxvirus genus in the family Poxviridae.

Monkeypox belongs to the same family of viruses as smallpox. But Smallpox had a higher fatality rate than monkeypox.

Smallpox was declared eradicated worldwide in 1980.
Symptoms
Monkeypox is characterised by flu-like symptoms and swelling of the lymph nodes, which gradually progresses to a widespread rash all over the face and body.
Transmission
Monkeypox virus is mostly transmitted to people from wild animals such as rodents and primates, but human-to-human transmission also occurs.

It spreads from one person to another via respiratory droplets.
Treatment
There is currently no specific treatment recommended for monkeypox.

Vaccination against smallpox was about 85% effective in preventing monkeypox.

Thus, prior childhood smallpox vaccination may result in a milder disease course.
https://www.thehindu.com/sci-tech/substantial-pre-symptomatic-monkeypox-spread-found/article66126120.ece