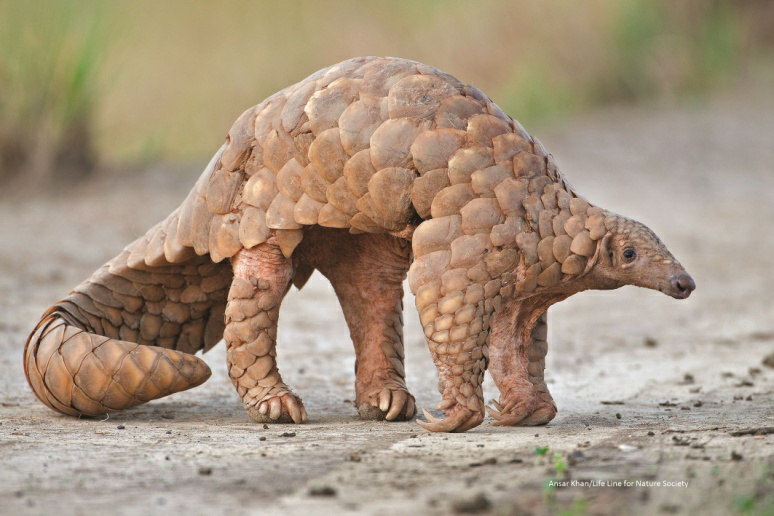 Copyright infringement is not intended
Context: Odisha radio-tags rescued Indian pangolin in an attempt to standardise the rehabilitation protocol for the animal in the State.
More about news:
After Madhya Pradesh, Odisha is the second State in the country to release a radio-tagged Indian pangolin into the wild.
About Pangolins:
Pangolins, despite being listed in Schedule I of Wildlife (Protection) Act, 1972 continue to be the world's most trafficked mammal.
The Indian pangolin is the largest among eight pangolin species.
The nocturnal animal lives in burrows and feed on ants and termites.
It practices

Volvation is a defensive behavior in certain animals, in which the animal rolls its own body into a ball, presenting only the hardest parts of its integument, or its spines to predators.
Pangolins in India
Both Indian Pangolin (Manis crassicaudata) and the Chinese Pangolin (Manis pentadactyla) are found in India.
Indian Pangolin is a large anteater covered by 11-13 rows of scales on the back.
A terminal scale is also present on the lower side of the tail of the Indian Pangolin, which is absent in the Chinese Pangolin.
Habitat
Indian Pangolin
Widely distributed in India, except the arid region, high Himalayas and the North-East.
The species is also found in Bangladesh, Pakistan, Nepal and Sri Lanka.
Chinese Pangolin
Found in the Himalayan foothills in Eastern Nepal, Bhutan, Northern India, North-East Bangladesh and through Southern China.
Threats to Pangolins in India:
Hunting and poaching for use as a protein source and traditional medicine and international trade for its meat and scales in East and South East Asian countries, particularly China and Vietnam.
Protection Status
IUCN Red List
Indian Pangolin: Endangered
Chinese Pangolin: Critically Endangered
Both these species are listed under Schedule I, Part I of the Wildlife (Protection) Act, 1972.
https://www.thehindu.com/news/national/odisha-radio-tags-rescued-indian-pangolin/article38074866.ece