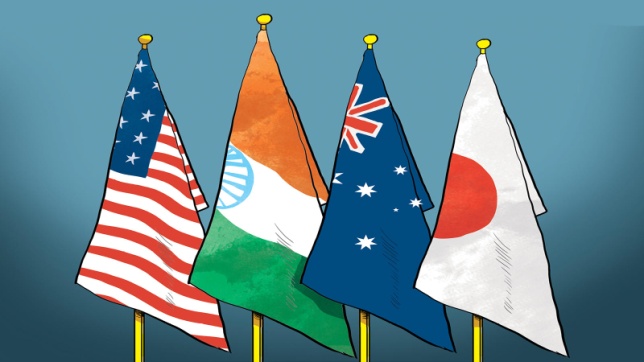 Copyright infringement is not intended
Context: Japan has agreed to host a meeting of the Quad next year. The four-nation group, technically called the Quadrilateral Security Dialogue, comprises of the United States, India, Australia and Japan.
About QUAD:
It is a bloc of countries positioning itself as a check against China's growing aggression in the Indo-Pacific and outside.
India is a "critical and crucial" member of the Quad.
Background
In the aftermath of Indian Ocean tsunami of 2004, Australia, Japan, India, and America formed a Regional Core Group in 2004.
Then Japanese PM Shinzo Abe proposed an "Arc of Freedom and Prosperity" in 2006.
The first meeting of the initial Quad was held in May 2007 as officials gathered for the ASEAN Regional Forum meeting.
Japanes PM Shinzo Abe after returning to office called for a "democratic security diamond," a Quad 2.0.
The QUAD 2.0:
The move to set up the quadrilateral also comes in the backdrop of growing Chinese assertiveness in the South China Sea and China's aggressive posturing.
Since its revival in late 2017, the Quad met twice a year in 2018 and 2019.
In New York in September 2019, the four countries held the first ministerial-level meeting of the Quad "to discuss collective efforts in shared commitments and close cooperation on counter terrorism, mentoring, assistance in disaster relief, airtime security, cooperation, development, finance and cybersecurity efforts."
Significance of quad- grouping:
All four nations share a deep interest in maintaining a stable balance of power in the Indo-Pacific and preventing a regional state from becoming dominant.
All four states share an interest in deterring the use of forceful or coercive practices to resolve political and territorial disputes in the region.
All four states are committed to the current rules-based economic order in the Indo-Pacific. This is based on free trade, open investment environments, open competitive tendering, the rule of law, and standards of good governance from which all continue to benefit.
All four nations support to strengthen liberal democratic governance within the Indo-Pacific. The region has not been immune to the global decline in observance of political rights and civil liberties.
How is china responding to quad?
China's endeavour is to conflate the Quad with the Indo-Pacific vision, and link both to the so-called China Containment Theory.
In 2016, China itself established a Quadrilateral Cooperation and Coordination Mechanism with Afghanistan, Pakistan and Tajikistan.
More recently, China has established Quadrilateral Cooperation with Pakistan, Afghanistan and
The strategic community in China, nevertheless, had branded it an emerging "Asian NATO".
Quad Nations and China
USA had followed a policy to contain China's increasing influence in East Asia. Therefore, USA sees the coalition as an opportunity to regain its influence in the Indo-Pacific region.
Australia is concerned about China's growing interest in its land, infrastructure and politics, and influence on its universities.
Japan has expressed concerns related to China's territorial transgression in the region.
China's violation of international norms, particularly its construction of military facilities on reclaimed islands in the
South China Sea, and its growing military and economic power, pose a strategic challenge to India.
QUAD Significance for India:
Act East Policy: It gives a powerful platform to advance its interests in East Asia, coordinate strategies with powerful friends and add more strength to its Act East initiative.
It will deepen India's ties with US, Australia and Japan and will provide New Delhi significant leverage in shaping US policies in Afghanistan-Pakistan to the benefit of India.
Through QUAD India seeks to reassert rule based world order to counter China's growing power and assertion.
Defence-related spending reduced in this time of COVID pandemic and associated with lockdowns, Quad will provide heavyweight to India's interests.
Sustainable Development in the Indian Ocean Region: India holds the responsibility to act as the net security provider in the Indian Ocean region.
Issue-based alliance or minilateralism: India has moved beyond non-alignment towards an issue-based alliance with
no formal agreements. Therefore, joining Quad will be in line with the present foreign policies of the government.
Challenges:
Translating intent into action will require a strengthening of ties in existing fields, as well as non-traditional areas such as cyber/information security, energy and climate change, disaster management, etc.
Poor Indian and Japanese financial and logistical bandwidth to competitively invest in the IPR compounds the Quad's shortcomings.
Complex economic relationships between the Core Quad and China – for all Quad members, China is either the first or the second largest trading partner, or a key import/export partner.
If the Quad begins a Quad-plus initiative, it will not only be confronting these challenges, but will also have to contend with other issues such as disputes even amongst members, and differing dispositions towards China.
Challenges for India:
Non-alignment: India is abandoning its "sacred" tradition of non-alignment.
Trustworthiness of US: US military alliances with Japan and the Philippines has not provided any challenge to Chinese aggression in the region.
No clarity on objectives: India wants advancing the security and economic interests of all countries having legitimate
and vital interests in the Asia-Pacific region whereas US is pitching for mutating the Indo-Pacific Quad into a more formal security grouping modelled on NATO.
Individual visions of the Indo-Pacific: It would be difficult to align the combined vision of the grouping with that of their individual visions regarding Indo-Pacific.
Internal economic changes: If India wants to engage the Quad partners on reforming the China-centred economic globalisation, it also requires to engineer many changes on trade-related aspects, which might prove to be difficult, given India's drive for self-reliance
Recommendations for greater collaboration among quad member governments in the years to come:
Establish Working Groups On Defense And Infrastructure: Broadening the current Quad format of foreign ministry
senior official-level meetings to include representatives from defense ministries would be a necessary first step toward
creating a whole-of-Quad "working 2+2."
Develop An Indo-Pacific Infrastructure And Development Coordination Working Group: it would ensure that all four Quad nations are committed to creating a roadmap to sustainable, high-quality infrastructure for developing countries.
It would further permit the streamlining of various inter- Quad infrastructure initiatives, including the JapanIndia sponsored Asia-Africa growth corridor.
Pursue An Annual Meeting Of Joint Operational Commands And Encouragement Of Exchanges:
Add Crisis Response, Humanitarian Aid, And Disaster Relief to the Quad's Agenda.
Appeal To ASEAN: The Quad should seek to harness consensus with ASEAN as a whole, promoting cooperation in the shared interests among the two.
2+2 And Malabar: Three of the four Quad countries enjoy ministerial-level "2+2" defense and foreign ministers dialogues with one another. India and Australia should upgrade their "2+2" to the ministerial level to close the loop and complete the square.
Boost Non-Traditional Security Cooperation: elevating collaboration on mine-sweeping technologies, anti-piracy operations, pollution control, pandemic responses, joint escorts of international shipping, force structuring, coast guard collaboration, counter-proliferation initiatives, and exchange of information on white shipping.
Expand Cooperation On Space And Maritime Domain Awareness
https://www.hindustantimes.com/world-news/japan-to-hold-quad-summit-next-year-taiwan-is-the-focus-101637378511426.html