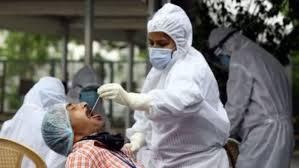 Disclaimer:Copyright infringement not intended.
Context
Although the government has not described it as such, there are now unmistakable signs that India has entered the third wave of the Covid-19 pandemic.
About
The reproduction number or R, an indicator of how quickly a disease is spreading in the population, has crossed 1 in all these megacities.
An R-value of 1, which signifies that every infected person is passing on the infection to at least one person on an average, is a key threshold after which cases begin to rise rapidly. Both Delhi and Mumbai have R-values over 2 right now.
https://indianexpress.com/article/explained/corona-r-value-over-1-in-big-cities-likely-start-of-third-wave-7698876/