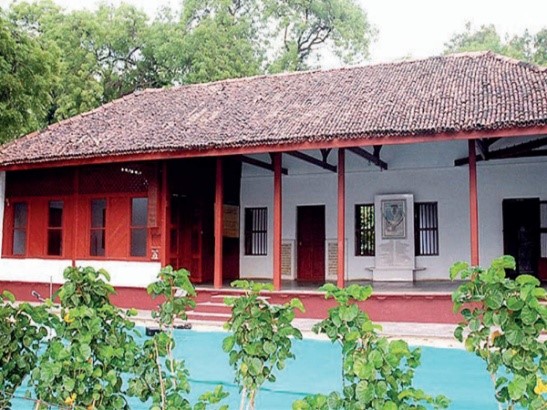 Disclaimer: Copyright infringement not intended.
Context
In October 2019, Prime Minister Narendra Modi's proposal for a larger Sabarmati Ashram complex had caused much anxiety among its Trustees and residents, with the ashramwasis — third or fourth generation of ashram residents — sitting on protests fearing eviction.


About
On his return from South Africa, Gandhi established the first ashram at Kochrab in 1915 which he shifted after the plague to a piece of open land on the banks of the river Sabarmati in 1917 for experiments in farming, animal husbandry, cow breeding, Khadi and related activities.

Sabarmati Ashram (also known as Gandhi Ashram) is thus located in the Sabarmati suburb of Ahmedabad, Gujarat, on the banks of the River Sabarmati.

This was one of the many residences of Mahatma Gandhi who lived at Sabarmati (Gujarat) and Sevagram (Wardha, Maharashtra) when he was not travelling across India or in prison.

He lived in Sabarmati or Wardha for a total of twelve years with his wife Kasturba Gandhi and followers, including Vinoba Bhave.

The Bhagavad Gita was recited here daily as part of the Ashram schedule.

It was from here that Gandhi led the Dandi march also known as the Salt Satyagraha on 12 March 1930.

In recognition of the significant influence that this march had on the Indian independence movement, the Indian government has established the ashram as a national monument.
https://indianexpress.com/article/explained/who-are-ashramwasis-impacted-by-gandhi-ashram-revamp-7494560/