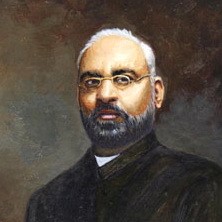 Disclaimer: Copyright infringement not intended.
Context
Prime Minister Narendra Modi paid tribute to Indian nationalist leader and freedom struggle leader Shyamji Krishna Varma.
Contribution
Considered as a staunch nationalist, Shyamji Krishna Varma founded the Indian Home Rule Society, India House and The Indian Sociologist in London.
India House and The Indian Sociologist, rapidly developed as an organised meeting point for radical nationalists among Indian students in Britain at the time and one of the most prominent centres for revolutionary Indian nationalism outside India.
The monthly Indian Sociologist became an outlet for nationalist ideas and through the Indian Home Rule Society, he criticised the British rule in India.
Having read Satyarth Prakash and other books of Swami Dayanand Saraswati, Shyamji Krishna Varma was very much impressed with his philosophy, writings and spirit of Nationalism and had become one of his ardent admirers.
It was upon Dayanand's inspiration, he set up a base in England at India House.
Varma, became the first President of Bombay Arya Samaj, and he inspired Veer Savarkar who was a member of India House in London.
Shyamji Krishan supported Lokmanya Tilak during the Age of Consent bill controversy of 1890.
However, he rejected the petitioning, praying, protesting, cooperating and collaborating policy of the Congress Party, which he considered undignified and shameful.
In 1897, following the harsh measures adopted by the British colonial government during the plague crisis in Poona, he supported the assassination of the Commissioner of Plague by the Chapekar brothers.
https://www.thestatesman.com/india/pm-modi-pays-tribute-shyamji-krishna-varma-jyanti-1503014422.html