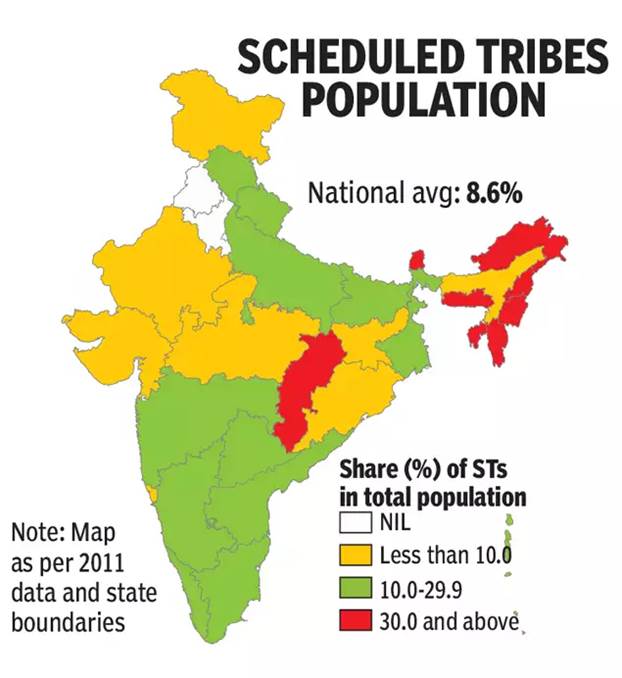 Copyright infringement not intended
In News
The Union Cabinet has approved the addition of four tribes to the list of Scheduled Tribes (ST);

The Hatti tribe in the Trans-Giri area in Himachal Pradesh.

The Narikoravan and Kurivikkaran hill tribes of Tamil Nadu.

The Binjhia tribe in Chhattisgarh.

The Cabinet also approved a proposal to bring the Gond community (Uttar Pradesh) under the ST list from the current Scheduled Caste list.

This includes the five subcategories of the Gond community: Dhuria, Nayak, Ojha, Pathari and Rajgond.
Hatti Tribe in Himachal Pradesh
The Hattis are a close-knit community.

Harris people take their name from their traditional occupation

of selling home-grown crops, vegetables, meat, and wool at small-town markets known as 'haats'.

Hatti men traditionally dress in distinctive white headgear on ceremonial occasions.

In Himachal Pradesh, Hattis people live in 154 panchayat areas, and according to the 2011 census; members of the community are around 2.5 lakh.

The present-day population of the Hattis is around 3 lakh.

They live near the Himachal-Uttarakhand border area in the basin of the Giri and Tons rivers,

both these rivers are tributaries of the Yamuna.

The Tons River marks the border between the two states.

Hattis live in the Trans-Giri area in Himachal Pradesh and Jaunsar Bawar in Uttarakhand.

Both have a similar tradition, and inter-marriages are common among them.

A rigid caste system operates in the community;

The Bhat and Khash are so-called upper caste people.

The Badhois are so-called lower caste people.

Inter-caste marriages between these 2 castes are discouraged.

The Hattis people are governed by a traditional council called 'khumbli' which is similar to the 'khaps' of Haryana, they decide community matters.
Narikoravan and Kurivikkaran hill tribes of Tamil Nadu.
The Narikuravar is an indigenous community in Tamil Nadu.

The main occupation of the people is hunting, but as they were prohibited entry into the forests, they were forced to take up other alternatives such as selling beaded ornaments to survive.

They migrate from place to place to find a market for their beads.

Children follow the adults wherever they go, which means they never get to attend school.

During British rule, they were placed under the Criminal Tribes Act of 1871 and hence stigmatized for a long time. However, they were denotified in 1952, but the stigma continues.

Their original name is Kuruvikkaran or Nakkale or Akkibikki but wrongly named Narikurava.

They speak the unclassified Indo-Aryan language called Vaagri Booli.

Almost all Narikuravas are well-versed in Tamil.

Although all they come under one roof based on their common clan they were broadly sub-divided into two sub-divisions: the buffalo-sacrificers and goat-sacrificers.
Binjhia tribe in Chhattisgarh
The Binjhia is an ethnic group found in Chhattisgarh, Odisha and Jharkhand.

According to some sources, the name Binjhia is derived from the word Vindhyas meaning Vindhya Hills.

The Binjhias believe that their original home was Kolanagari in the Vindhya valley.

From Vindhya hills, they moved eastwards to Chhotnagpur, Keonjhar, Sundargarh and Barasombar.

A long time ago they called themselves Vindhyaniwasi. But after settling down at Chhotnagpur, gradually they were called Binjhia by the local people.

The Binjhia settlements are large and homogeneous. They do not practice clan exogamy.

They also allow cross-cousin marriage, levirate, sorority, and remarriage of widows and divorcees.

They practice both burial and burning of the dead.

They worship several benevolent and malevolent spirits along with Hindu gods and goddesses Such as Jagannath.

They still use barter systems at the village community level and at the weekly markets.

Women are an important part of all forms of socio-economic transactions.
Constitutional Safeguards for STs
Article 15

, Special provisions for the advancement of other backward classes(which includes STs).

Article 23

, Prohibition of traffic in human beings and beggars and other similar forms of forced labour.

Article 24,

Forbidding Child Labour.

Article 29

, Protection of Interests of Minorities (which includes STs).

Article 46

, State Shall Promote, with Special care, the educational and economic interests of the weaker sections of the people, and in particular, of SCs, and the STs, and shall protect them from social injustice and all forms of exploitation.

Article 164

, Provides for Tribal Affairs Ministers in Bihar, MP and Orissa.

Article 243,

Reservation of seats in Panchayats.

Article 244,

Provisions of the 5th Schedule shall apply to the administration & control of the Scheduled Areas and Scheduled Tribes in any State other than the states of Assam, Meghalaya, Mizoram and Tripura which are covered under the 6th Schedule.

Article 275

, Grants in-Aid to specified States (STs&SAs) covered under 5th and 6th Schedules.

Article 330

, Reservation of seats for STs in Lok Sabha.

Article 337

, Reservation of seats for STs in State Legislatures.

Article 334

, 10 years period for reservation (Amended several times to extend the period).

Article 350,

Right to conserve distinct Language, Script or Culture.

Article 350

, Instruction in Mother Tongue.

Article 371

, Special provisions in respect of the NE States and Sikkim.

Service Safeguards under Art 16, 335, and 320.

Safeguards under Various laws:

SCs & STs (Prevention of Atrocities) Act.

Bonded Labour System (Abolition) Act.

Child Labour (Prohibition and Regulation) Act.

Forest Conservation Act, Panchayati raj (Extension to Scheduled Areas) Act.

Minimum Wages Act 1948.
https://epaper.thehindu.com/Home/ShareArticle?OrgId=GT3A9CN70.1&imageview=0