Swachh Survekshan Awards 2021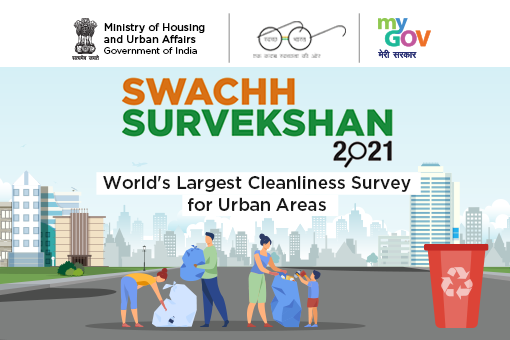 Copyright infringement is not intended
Context: Indore cleanest city for 5th time in a row in Centre's annual cleanliness survey.
Other key findings:
Varanasi has been the adjudged the 'cleanest Ganga town'.
The second and third positions in the 'cleanest city' category of the 'Swachh Survekshan Awards, 2021' were secured by Surat and Vijayawada,
Chhattisgarh has been adjudged India's cleanest State.
About Swachh Survekshan Awards, 2021':
Swachh Survekshan is an annual survey of cleanliness, hygiene and sanitation in cities and towns across India.
It was launched as part of the Swachh Bharat Abhiyan, which aimed to make India clean and free of open defecation by 2nd October 2019.
The first survey was undertaken in 2016 and covered 73 cities; by 2020 the survey had grown to cover 4242 cities and was said to be the largest cleanliness survey in the world.
In a bid to scale up the coverage of the ranking exercise and encourage towns and cities to actively implement mission initiatives in a timely and innovative manner, Ministry of Housing and Urban Affairs (MoHUA) is now in the process of conducting the sixth edition of the survey to rank all cities under Swachh Bharat Mission-Urban (SBM-U) with Quality Council of India (QCI) as its implementation partner.
The objective of the survey is to encourage large scale citizen participation, ensure sustainability of initiatives taken towards garbage free and open defecation free cities, provide credible outcomes which would be validated by third party certification, institutionalize existing systems through online processes and create awareness amongst all sections of society about the importance of working together towards making towns and cities more habitable and sustainable.
https://www.thehindu.com/news/national/indore-cleanest-city-for-5th-time-in-a-row-in-centres-annual-cleanliness-survey/article37592873.ece?homepage=true&__cf_chl_captcha_tk__=8jZWK6rE15zjA5NvDbumwE32hm7et_vIIuYIuGnunJc-1637401792-0-gaNycGzNHGU