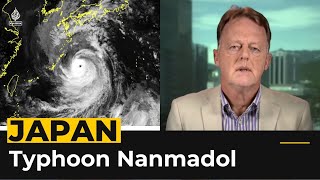 Disclaimer: Copyright infringement not intended.
Context
New damage was reported in southern Japan, where Typhoon Nanmadol hit over the weekend.
Nanmadol
Typhoon Nanmadol is one of the biggest storms to hit Japan in years - and the 14th typhoon of the season. The name was contributed by Micronesia and refers to the Nan Madol archaeological site on Pohnpei.
Typhoon
A typhoon is a mature tropical cyclone that develops between 180° and 100°E in the Northern Hemisphere. This region is referred to as the Northwestern Pacific Basin, and is the most active tropical cyclone basin on Earth, accounting for almost one-third of the world's annual tropical cyclones.

For organizational purposes, the northern Pacific Ocean is divided into three regions: the eastern (North America to 140°W), central (140°W to 180°), and western (180° to 100°E).
Formation
Like any tropical cyclone, there are several main requirements for typhoon formation and development:
(1) sufficiently warm sea surface temperatures,
(2) atmospheric instability,
(3) high humidity in the lower-to-middle levels of the troposphere,
(4) enough Coriolis effect to develop a low pressure center,
(5) a pre-existing low level focus or disturbance, and
(6) a low vertical wind shear.
Read all about tropical Cyclones: https://www.iasgyan.in/blogs/cyclone-burevi-all-about-tropical-cyclones
https://indianexpress.com/article/world/typhoon-nanmadol-japan-damages-space-centre-8161133/