UNITED NATIONS GENERAL ASSEMBLY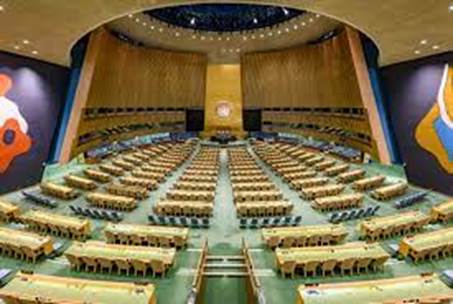 Copyright infringement not intended
Context:
United Nations General Assembly has adopted an India-sponsored resolution on multilingualism that mentions the Hindi language for the first time.

The resolution passed urges the United Nations to continue spreading vital communications and messages in both official and non-official languages, including Hindi.
United Nations General Assembly (UNGA):
It is one of the six principal organs of the United Nations(UN).

It serves as the main deliberative, policymaking, and representative organ of the UN

Its powers, composition, functions, and procedures are set out in Chapter IV of the United Nations Charter.

The UNGA is responsible for the UN budget, appointing the non-permanent members to the Security Council, appointing the Secretary-General of the United Nations, receiving reports from other parts of the UN system, and making recommendations through resolutions.

It also establishes numerous subsidiary organs to advance or assist in its broad mandate.

The UNGA is the only UN organ wherein all member states have equal representation.

It can reconvene for special and emergency special sessions.

Voting in the General Assembly

on certain important questions—namely recommendations on peace and security; budgetary concerns; and the election, admission, suspension or expulsion of members—is by a two-thirds majority of those present and voting. Other questions are decided by a simple majority. Each member country has one vote.

Apart from the approval of budgetary matters, including the adoption of a scale of assessment, Assembly resolutions are not binding on the members.

All 193 members of the United Nations are members of the General Assembly

, with the addition of Holy See and Palestine as observer states.
https://newsonair.gov.in/News?title=UNGA-adopts-India---sponsored-resolution-on-multilingualism%3b-mentions-Hindi-language-for-first-time&id=442497